I've 'known' Carolyn Jewel for a while now — I started lurking at her blog several years ago after finding her through Megan Frampton. I didn't realize at the time that she'd had a few historicals published, but I knew there were several other books on the burner: a paranormal, which eventually became MY WICKED ENEMY, and a historical, which eventually became SCANDAL. And after reading her work, here's what I learned about Carolyn Jewel — she writes some of the boldest, riskiest, emotionally affecting, and wonderful books out there. Her paranormal heroes are bad, beyond bad, and her worldbuilding complex and unique. And her historicals … god, they rip my heart out. Her latest is INDISCREET. She gets so deep into her characters and her writing is so subtle and clear, it's breathtaking. As a reader, I love it. As an author, I envy her like crazy.
So I'm really pleased to interview her here — and had a blast answering the questions that she posed to me.
***
1. You write both historical and paranormal romances. What do you love most about writing the paranormals, and what do you love most about the historicals?
With the paranormals, I have to say I enjoy not having to watch my vocabulary and clothing so closely. Don't go thinking this means I sit around in my jammies swearing at the computer . . . Oh. Well. Sometimes I do, actually. But with a paranormal story (so far mine are contemporary settings) I never have to ask myself whether a word was in use in the period before I use it. Of course I also love the creatures and their bad ass abilities. That's a lot of fun to write. I'm also a history geek. Oh, how I love history! I really enjoy putting myself in the mind-set of someone who lived 200 or more years ago. What was their world outlook? What's the same, what's different? What constrains them that might not today? I just love the tension that brings to a story. Also, I like the clothes.
2. You're stuck on a desert island. Which one of your characters would you want to have with you?
Hmm. Are there any amenities on the island? A steady supply of chocolate, for example? Assuming that I could do some kind of temporal story displacement such that my choice would still have his HEA in another dimension I would pick… Um… All of them? Sure! I'd use my Temporal Displacement Apparatus to bring over a new character every day or so, depending totally on my mood and maybe there would be some kind of equipment malfunction and I'd end up with one person who is all of my heroes (because I am totally thinking of heroes)… Or, wait, wait! One person who could be any character I choose. When I need girl talk, I'd bring over Sophie from Scandal to talk about books and writing and then Sabine from Indiscreet to talk about history. And then other times . . . Do I need to keep this G-rated? I do? Rats. I leave it to your imagination then.
3. On your blog, you've mentioned several writing workshops that you've attended in person and listened to as recordings. What do you consider the single best piece of writing advice you've heard? What's the worst?
I bought the RWA workshop DVD this year at the 2009 conference and I've been listening to all the workshops. As of this writing, I've just finished the last one. I've attended many RWA workshops, too, both this year and in the past. There are two "best advice" that come to mind, both of which have been said by a more than one person.
The first applies to all writers, regardless of where they are in their career; Protect the writing. Even as you admit and learn about the things you need to improve in your writing, you also need to believe in your writing. Discard any advice or process that weakens you as a writer or weakens the result of your writing.
The other has to do with making a story bigger. Donald Maass is the best known proponent of this advice, and I highly recommend listening to his workshop. There's a point in his RWA 2009 workshop when he's telling a personal story and the room falls dead silent. He had everyone hooked — and he wasn't, ostensibly, illustrating a point. His story was (again, ostensibly) set-up for the point he was about about to make. But the real lesson was in the details he used in that story and how personal he made it with very very little.
There hasn't been any "worst" advice per se but rather advice that's delivered as if it's chiseled in stone: Do.This.Or.You.Will.Fail. The creative process isn't a one-size-fits all thing. Just because a certain process or approach works for me doesn't mean it's something that will work for everyone else. And just because some other way seems impenetrable and impossible for me doesn't mean no one else should do that. Not all methods are valid for all writers at all times. They're just not. The trick is finding out what does work for me.
For a writer who's starting out or is insecure about her abilities (for whatever reason) handing out a set of immutable rules can be incredibly damaging, particularly if it happens to be a set of rules that is contrary to that person's internal wiring.
4. In INDISCREET, your characters travel through historical Turkey. Was there anything surprising or fascinating that you unearthed in your research?
Everything I learned while I was researching INDISCREET was fascinating. If I hadn't been on deadline, I'd still be researching. What really ended up catching my fancy was learning about the abandoned Roman cities, particularly Serijillo. There are many such cities throughout Syria and Turkey (which was my area of concentration for my research), but Serjillo was smack in the middle of where my characters are traveling. It's as though one day the Romans woke up and said, "Hey, we're done here. Let's go home. Right now." And then they did. High Fantasy novels often have cities like that – abandoned at a point in time and that seem as if only the people are missing. There's just something fundamentally spooky about that, and it always enthralls me.
5. In both your historicals and your paranormals, your characters often have difficult and/or tortured pasts – and their journeys in your books aren't so easy, either. Why are you so mean to them? Are you just sadistic?
Yeah, I'm just a sadistic b*itch. Comes in handy.
6. What are you working on right now, and what is your next release? When are we going to get Kynan's book? Because Xia from MY FORBIDDEN DESIRE is scary, but man … Kynan is like crazy scary.
Right now, I'm finishing up what will be the third book in my desperately-needs-to-be-named paranormal series. The third and fourth books are scheduled as back-to-back releases in June and July of 2011. The heroes will be Durian (the warlord's assassin) and Iskander (former blood-twin) respectively. Beyond that, I can't make any promises. I do hope to have the chance to write about Harsh (what, exactly, is he?) and then Kynan (the bad, bad boy).
7. I haven't seen True Blood yet (no HBO = Meljean has a sad) but I hear there's a certain vampire on the show who gets all your lovin'. So, tell me – why Eric? Why not Bill?
After all the talk I was seeing about True Blood, I broke down and bought Season 1 on DVD. Watching Season 1 convinced me to sign up for HBO for the duration of Season 2. I'll re-up for Season 3. I've also read all the books, but not until after I'd seen Season 1. I was initially (briefly) a bit baffled about why I didn't love Bill as much as I love Eric. After all, Vampire Bill is dark, moody and handsome. And he's fiercely protective of Sookie. Oooh. Usually, that's all I need to fall madly in love.
But Eric is just so freaking bad! In fact, he's so bad that I have no issues with the blond hair which normally (and in an extremely shallow way) doesn't work as well for me. Alexander Skarsgard (the actor who plays Eric Northman) is an insanely beautiful man (in my opinion) AND he can act. Combine that with Eric Northman's I'm bad and I don't care attitude and I'm a goner.
Readers of the books know that Bill has told Sookie a significant lie. There are excellent reasons to believe this element of the books will appear in the series, too.
8. If you could cut one bad habit from your daily routine, what would it be? What's one habit (good or bad) that you couldn't live without?
What bad habits would those be, Meljean? Oh. Yeah. Well, I bundle them all under "Advanced Procrastination Techniques" and yes, I'm willing to share them with you. Email me.
Hokey as it sounds, and trust, me I seriously considered my chocolate addiction, the habit I couldn't live without is exercise. When I do skip the work out, my body makes me pay in hideous and horrible ways. I work through a lot of writing issues while I'm too busy working up a sweat to obsess about plot problems. Then my subconscious is free to solve the problem for me.
9. Do you have any defining moments as a writer? (First sale, first completed manuscript?) Any moment, over all the others, that you wouldn't give up for the world?
This is an easy one. After I published my first two books (1989 and 1991) I spent the rest of the 1990's writing crap (mostly the same book, I'm sorry to say) and getting rejected and not knowing what I was doing wrong. Except for the blurry form rejections, most of them went like this, "you're a talented writer but…" So there I was with a book that was really pretty good but with boring parts I didn't know how to fix. I asked myself what I would do if I knew I would never get published ever again. And the answer was, I'd keep writing. For myself.
That moment affirmed for me that I would get something back from the effort no matter what. Since I was going to be writing anyway, I might as well keep trying to publish. After that I dumped all my writing advice books, went back to writing the way I used to (which is now called seat of the pants writing) got myself into a critique group and made sure I internalized all the things I learned.
It's really not an accident that I sold about six months after that.
My writer's workshop, by the way, is predominantly the result of that personal discovery. If I thought I'd learned something, I wrote it up and posted it on my website. For me, the act of explaining the lesson to myself, crystalized it in my brain.
10. What is your favorite scene in INDISCREET (if you can tell us without massive spoilers)? What do you think your readers will love best about the romance?
Well. This is a hard one. I think it might be the scene when the hero, Lord Foye, realizes he's fallen for Sabine and there's really nothing he can do about it. He can't help the way he feels and he accepts that. No denials. Unfortunately, in real life just because you love someone doesn't mean you'll be loved in return, and it also doesn't mean it's the right time or the right place. And at that point in the story, it's neither.
What I hope people will love is seeing what Foye does with the hand he's been dealt.
***
So…who wants to read that scene? You can win a signed copy of INDISCREET — all you have to do is … hold on. What's this? Carolyn sent over a special present:
…where were we? Is it January? Do we care? Ahem, no we don't. SO! all you have to do to enter to win a signed copy of INDISCREET is answer one of the following questions:
1) Who would you take to a desert island?
2) Bill or Eric?
3) Is 'seeing is beliving' a joke about being undead or just a typo? Support your answer with evidence from the calendar page, please 😉
4) What's your favorite Carolyn Jewel novel?
5) What bad habit would you get rid of? What's one habit you couldn't live without?
Comments will be open until midnight on Friday, October 23rd. The winner will be picked using a random number generator.
More about INDISCREET: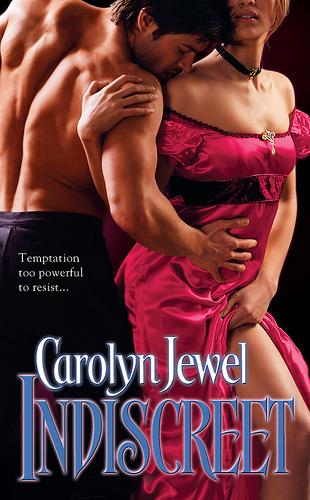 Marrying for love can be a challenge. . .
Edward, Marquess of Foye, would have been happy to continue his life as an unmarried gentleman rake. His brother's death changed everything. As the last of his line, Edward must now marry. Heart already broken by a capricious young girl, he vows to find an older woman-seasoned, mature. . .and no threat to his feelings.
Falling in love can be dangerous. . .
Sabine Godard was educated by an Oxford don beyond what was proper. Her studies became her salvation after her past left her unwilling to accept the touch of any man. Though she never intended to fall in love, when she and Edward meet, passion defies logic. Together they explore temptation and sensuality, healing old wounds. . .until events require them to risk everything for their love.
Berkley Sensation
October 6, 2009
ISBN: 978-0425230992