Congratulations, Tawania! Thanks to the power of random.org, you've won the set of Guardian series romances — I will be e-mailing you shortly for mailing details.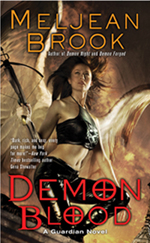 To everyone who entered — thank you so much! Although I didn't have any more full sets of the series, I have a few copies of First Blood and Demon Blood available, so I used random.org and chose five additional winners to chose either one of those books. Those winners are:
#107 – Host
#60 – MarnieColette
#133 – Megan
#46 – Xid Trebor
#17 – AmyT
Please contact me with your mailing address, and let me know whether you'd like a copy of Demon Blood (the latest book in the series) or First Blood, an anthology that includes a relatively stand-alone novella. Excerpts and more information can be found by clicking on the covers.