Today marks the release of A TOUCH OF STONE & SNOW, book two in the Gathering of Dragons trilogy! This book continues a few years after we left off with A HEART OF BLOOD AND ASHES, and although the hero and heroine are brand new to the series, you'll recognize some familiar faces from that story, as well as from THE BEAST OF BLACKMOOR.
Also, scroll down for information on an upcoming online Date Night hosted by Alyssa Cole, featuring me and (the two ladies who are) Kit Rocha!
Don't forget that I have maps available on my site! And as always, thank you for reading — I hope you love Lizzan and Aerax as much as I do… and Aerax's sabertooth snow cat!
Happy reading!
Milla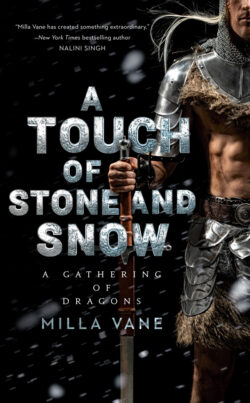 Milla Vane returns to a world of kings, magic, and passion in her exhilarating A Gathering of Dragons series, as a great alliance forms to stand against an evil warlord intent on their destruction.
Danger lurks in the western realms. The Destroyer's imminent return has sent the realms into turmoil as desperate citizens seek refuge—but there's no safety to be found when demons and wraiths crawl out from the shadows. Even Koth, a northern island kingdom left untouched by the Destroyer a generation past, is besieged by terrors spawned from corrupt magics.
When Lizzan leads the Kothan army against these terrors, only to see her soldiers massacred and to emerge as the only survivor, she is called a coward and a deserter. Shunned from her home, Lizzan now wanders in solitude as a mercenary for hire, until she encounters a group of warriors seeking new alliances with the northern kingdoms—a group that includes Aerax, the bastard prince of Koth, and the man who sent her into exile.
Though they were childhood friends, Aerax cannot allow himself to be close to the only woman who might thwart his treacherous plan to save their island realm. But when a goddess's demand binds them together, Lizzan and Aerax must find a way to overcome their painful pasts. Or there will be no future for the western realms…
Indiebound • Powell's • Loyalty Bookstores
Amazon • Barnes & Noble • Apple Books
WHAT READERS ARE SAYING
"This series is PERFECT for readers who love a delicious blend of romance and fantasy, with extensive world-building, action, and storyline to keep pages turning, and a scorching romance to tug at heartstrings."
—Alia@One Way or An Author

"[Milla Vane] takes Lizzan and Aerax from the extremes of isolation and hopelessness, to deeply and happily in love, to all is lost before they get their happy ending … She murdered me with beauty and emotion, and I liked it."
—Emmalita@Cannonball Read