***Contest Closed***
I spent most of last week in Philadelphia at the Authors After Dark conference, having a freaking fantastic time and managing a wardrobe malfunction with a Wonder Woman t-shirt. The best part of every convention is the people you meet and have a chance to speak with (so many!), and as a writer, I came away with many valuable tips, such as:
Don't try to put on your boots after your put on a corset. It's hard enough to breathe. Bending is just a joke.
If possible, don't follow either Stephanie Burke or Dakota Cassidy on a panel, because they are always funnier than you.
Writing is a hell of a lot better gig than swinging an iron from your eyelids or swallowing a sword*. Eeek!
*I know, my mind just went there, too. Dirty, dirty.
But! The fun didn't end there. After a delayed flight, chasing a gorgeous sunset west, and flying over a crazy lightning storm, I got home to these:
and a copy of this: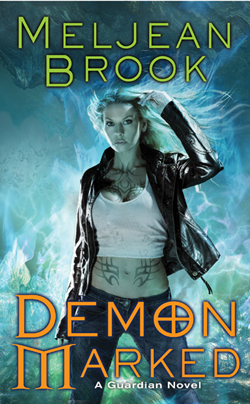 So of course I'm giving them both away! If you're wondering about series order, here's the list of Guardian books — DEMON MARKED comes before the novella in ANGELS OF DARKNESS (which also contains minor spoilers for DEMON MARKED.)
Both stories stand alone (and if you haven't read a Guardian book before DEMON MARKED, that's pretty much no problem — the heroine has no idea what's going on, either, so you can learn along with her — or you can check out my Guardian series primer.)
So, here's the deal: In the comments, tell me which book you'd like to win. On Friday, I'll pick three winners using random.org, and send the books to them. That's it!
Oh, except for the small print: Comment by 11:59 PM PST on August 19th, 2011 to be entered into the drawing. Three winners will be randomly chosen via random.org, and their names posted on this blog August 20th, 2011. Winners must e-mail Meljean with their mailing address information by Aug 30th, 2011. International entries are welcome. Only one entry per household. Duplicate entries will be deleted. No purchase necessary to enter. Odds of winning depend upon number of entries received. Void where prohibited.
***Contest Closed***