Biography ~ Bibliography ~ Photos and Covers ~ Reviews
Publicist Information
For Berkley ARCs and to schedule signings or appearances, please contact:
Courtney Landi
Berkley/NAL Publicity
Berkley Publishing
375 Hudson Street
New York, NY 10014
Courtney.Landi (at) us.penguingroup.com
Agent Information
I am currently represented by Nephele Tempest of The Knight Agency. Please direct all queries regarding rights or contracted work to her.
Mailing Information
Meljean Brook
PO Box 781
Dallas OR 97338
Note: I only check this box once a month or so. If you send something to me, please let me know!
Biography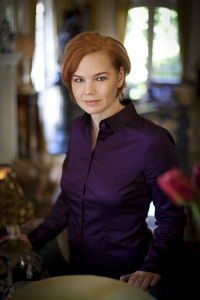 Meljean was raised in the middle of the woods, and hid under her blankets at night with fairy tales, comic books, and romances. She left the forest and went on a misguided tour through the world of accounting before focusing on her first loves, reading and writing–and she realized that monsters, superheroes, and happily-ever-afters are easily found between the covers, as well as under them, so she set out to make her own.
Meljean lives in Portland, Oregon with her husband and daughter.
Born: Dallas, Oregon
School: B.A. in English, Portland State University


Bibliography
Click here for a printable booklist.

The Guardian Series
The Iron Seas:
Unconnected Books:
Photos and Covers
Web suitable author photos (right click and save image as):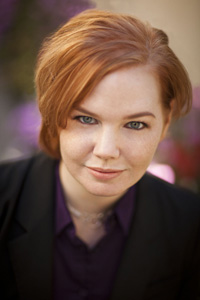 Author photos copyright Doug Crouch | If used, please credit the photographer.
dougcrouch.com
High resolution photos for print (right click and save as):
Hot Spell
Demon Angel
Wild Thing
Demon Moon
Demon Night
First Blood
Demon Bound
Demon Forged
Must Love Hellhounds
Demon Blood
The Iron Duke
Demon Marked

Reviews
~Demon Marked~
"The award-winning Brook adds another multifaceted and intense drama to her already impressive Guardian series."
½" —RT Book Reviews
"Get comfortable somewhere and be prepared to lose some sleep… A believable and satisfying love story." —All About Romance
~The Iron Duke~
"With The Iron Duke, Meljean Brook has brilliantly defined the new genre of Steampunk Romance. I loved it!" —Jayne Ann Krentz, New York Times Bestselling Author
"…a stunning blend of steampunk setting and poignant romance – smart, sexy, breathtaking, and downright addicting." —Ilona Andrews, New York Times bestselling author of Magic Bleeds
"…a high seas/airborne adventure that's filled with zombies, pirates and deadly betrayal. Along with the pulse-pounding adventure, there's plenty of seriously sensuous sizzle for readers to enjoy." (4½ stars, Top Pick!) —RT BookReviews
"With adept writing and a flair for creating believable worlds, Brook's first in the Iron Seas series showcases her masterful storytelling." —Booklist
"The Iron Duke was an intense read that created conflicting emotions in me, but which in the end proved a gripping experience I wouldn't have wanted to miss. The Iron Seas series has catapulted itself on my autobuy list … I recommend it most highly." —All About Romance
(Starred Review) "Airships, zombies, nanotechnology, outlandish secondary characters, and a complicated heroine–who goes from believing "Dead people of all sorts were more tolerable than most of those living" to being willing to love–make for a complex, gripping read." —Publishers Weekly
~Demon Blood~
"Brook brings together two broken heroes in the high-stakes sixth Guardian paranormal romance…fiery attraction and steamy love scenes…fans won't be disappointed."  —Publishers Weekly
"Gripping, heart wrenching and richly textured, Demon Blood is an emotional story bursting with epic fantasy." –Bookaholics
"Brook's characters leap from the page. Deacon is the perfect hero, tortured but worthy, and Rosalia is just the woman to save him. 4½ stars!" —RT Book Reviews
"…a very sexy and steamy tale…Her prose is brilliant and the exceptional fast paced storyline keeps you reading till well into the night." –Smexy Books
"I have lost the count on the amount of times I have said that this series is consistently good, incredibly awesome and extremely well-written with great characters and this brilliant overarching plot. It should come as no surprise then that Demon Blood is another strong entry in the series." –The Book Smugglers
"If you haven't read Meljean Brook by now, you are missing out." –All About Romance
~Demon Forged~
"Another fantastic book in a beautifully-written series." —Nalini Singh, New York Times bestselling author of Angels' Blood
"Dark, rich, and sexy, every page makes me beg for more!" —Gena Showalter, New York Times bestselling author of the Lords of the Underworld series
"A dark, gripping read…the characters are brilliant, and the breathtaking romance, vivid setting and darkly delicious adventure will immerse readers in this spellbinding world until the satisfying conclusion." —RT Book Reviews
"The story explodes with the rich dialogue, descriptions and remarkable characters her readers have grown to love…Demon Forged is one of the best books I have read for 2009 and should be on every paranormal romance lover's reading list." –The Romance Reader
"Another fantastic, outstanding entry in my favourite PNR series…[Brook] always delivers top notch writing, amazing romance and an overall story arc that matters." –The BookSmugglers
"Brook's world is complex and imaginative, and trying to discover all the twists and turns makes for fascinating reading." –The Book Binge
"[Demon Forged] starts with intense action and ends the same way…leaves me wanting more." –Terri, Night Owl Romance
~Demon Bound~
"This powerful addition to the seductive world of the Guardians puts the focus on another pair of unlikely lovers. Readers will be blown away by the fascinating and unique heroine." —Romantic Times BOOKreviews
"Brook continues to deliver surprising characters, relationships, paranormal elements, and plot twists – the only thing that won't surprise you is your total inability to put this book down." –Alpha Heroes
"DEMON BOUND clearly raises the bar on paranormal romance for sheer thrills, drama, and world-building, and hands-down cements Brook's place at the top of her field." –Romance Junkies
~Demon Night~
"[Brook] is truly one of the best voices out there. Sexy, exciting…a dark and sultry world." –Gena Showalter, New York Times bestselling author
"Charlie's traumatic past has left her believably afraid of her own needs, and Ethan is a brave, sweet guy with old-fashioned ideas about chivalry. Brook gives them distinctive dialogue and paints a fascinating, erotic world full of angels, demons, vampires and ambiguity." —Publishers Weekly
"Poignant and compelling with lots of action, and it's very sensual. You'll fall in love with Charlie, and Ethan will cause your thermometer to blow its top. An excellent plot, wonderful dialogue… Don't miss reading it or any of Meljean Brook's other novels in this series." –Fresh Fiction
"A phenomenal book by an author who knows how to give her readers exactly what they want… dangerous, sexy, scary and smart." –Romance Reader at Heart
~Demon Moon~
"Sensual and intriguing, Demon Moon is a simply wonderful book. Colin is a hero to adore and Savi his perfect half. I was enthralled from the first page!" — Nalini Singh, New York Times bestselling author
"The fourth book in Meljean Brook's Guardian series turns up the heat without losing any of the danger or biblically tinged lore. A-" —Entertainment Weekly
4½ Stars "…action packed, with a fascinating, one-of-a-kind vampire hero and a heroine with some very unique qualities." —Romantic Times BOOKreviews
~Demon Angel~
"I've never read anything like this book. Demon Angel is brilliant, heart-breaking, genre-bending — even, I dare say, epic. Simply put, I love it." –Marjorie M. Liu, New York Times bestselling author
"An original plot, highly appealing characters, a well-drawn alternative universe, a strong voice and a great sense of humor…Demon Angel is outstanding." –The Romance Reader
"…a unique and imaginative realm that will keep you on the edge of your seat thumbing through the pages quickly to see how this enchanting tale will play out. Ms. Brook pens a deeply satisfying saga laced with a mesmerizing plot, charismatic characters and a powerful romance that lasts throughout time." –Romance Junkies
"With plenty of action, a plot that doesn't quit, and characters who leap off the pages, Demon Angel is a surefire winner. This book will captivate you…!" –Romance Reviews Today
"Complex and compelling…an engrossing story of good and evil and all the nuances in between…" –Joyfully Reviewed
~Anthologies and General~
"Fantastic death defying love…." –Fresh Fiction
"An intriguing story about self-sacrifice, both spiritually and physically, Falling for Anthony is one of those short stories I would have liked to have seen at full length….I wished for more time with the characters of her debut release…." –Romance Reviews Today
"This story is an emotional roller coaster for both the characters and the reader. Meljean Brook has penned a story I am sure readers won't soon forget and they will be clamoring for more of her extraordinary work." –Romance Junkies
"These two flawed people, together with an unusual secondary cast, make this a wonderful read." –Book Fetish
"Page-turning romance." –Publishers Weekly