I'm completely astounded by the number of entries for the ARC — thank you all so much for entering. I combined the number of entries from my blog and my Facebook page, and here are the results from random.org
True Random Number Service
Random Integer Generator

Here are your random numbers:

29 51 130 97
#29 – Heather (Darkly Reading)
#51 – Devon Alexander
#97 – Jacqueline C.
#130 – Katrina Whittaker
Congratulations! And thank everyone again, so much. I wish I had a lot more to give away. But since I don't, I've added a snippet (edited to cut out paragraphs that wouldn't make sense without the previous chapters, and mildly spoilerish for Demon Forged):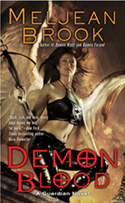 Deacon crossed the hotel room toward the window, knowing he should hit the bed instead. Sunrise was almost here, and he'd drop where he stood when the sun came up. He pushed back the drapes. Not much to see. Scooters and chained bicycles lined the cobblestone alley. A few potted flowers folded in on themselves against the night. Deacon studied the shadows. Hell, he'd been watching the shadows all night, expecting her to step out of them.
Rosalia.
She wasn't out there now. None of the shadows were deep enough; he could see through them. But when they were impenetrable . . . that would be Rosalia.
He curled his fist against the glass, wishing he could smash through it. God damn her for sticking her nose into his life again. Helping him, when he could barely look at her square on. He hated being near her. He couldn't escape his failure or his guilt when she looked at him. Yet he searched the shadows for her. The temptation, the hope, of a single glimpse had drawn him to the window instead of the bed.
Movement beyond his reflection froze Deacon in place. Someone had come into the room. The door hadn't opened — not a demon or vampire, then. So Rosalia had come after all? She wouldn't be staying. He'd run her out of here, the same way he'd run her off before. Uncivil bastards pissed her off. Lucky for him, being one came easy.
Deacon let the drape fall back into place, began to turn.
"Don't move."
He tensed. No. Not Rosalia. The voice was a strange rasping harmony, both male and female and holding too much at once: threat, warning, and terror.
But threats didn't work anymore. Deacon didn't have much to lose. He turned, but he wasn't stupid. He did it slowly.
She crouched in the corner, trembling. Pale as a vampire, but not one. Her clenched teeth formed an even line. No fangs. Tangled red hair framed a face with hollowed cheeks. Solid black filled her eyes where the whites and irises should have been. Deacon stared, unease crawling over his skin. He knew this woman. A detective. One who'd worked with the Guardians. He'd met her once, at a vampire club in San Francisco. She'd been human then. She wasn't anymore. He didn't know what she was.
"He wants to kill you," she said, then gasped. Her fingers dug into the wall, her nails gouging the plaster. Her heart beat a rapid pace against his ears. "I'm holding him back. But it's hard . . . when you move."
Someone wanted to kill him? Nothing new. But she was new . . . whatever she was. And whoever was inside her. "Who?"
"Michael."
The Guardians' leader? Deacon tried to take it in. No surprise that the man was out for his blood. His only surprise was that it had taken this long. But like this?
"He's controlling you?"
Anger flashed through her psychic scent, dark and deep. "Hell . . . no."
From what he could see, that response held more wish than fact. But she'd gotten her breathing down, slow and steady. "Why is he—"
"Shhh." It came out like the hiss of a snake.
Or a demon.