About My TBR: When I was asking for site feedback and asking what readers would like to see, Sheila mentioned that she would like "What am I reading?" updates or recommended books. Since I haven't had much chance to read lately, my recommendations are pretty thin … but I do keep on buying a ton of books and sticking them on my TBR. So I thought I could make that a regular blog feature, instead: What I'm putting on my TBR, and why. So, here are books that I've bought in the past couple of weeks/months (and I have a ton more to add, but this is probably enough for a post.)
The covers all link to the author's sites (or to Amazon, if I was really lazy or if I had difficulty navigating the author's site) so that you can read excerpts.
Actually Read
Restraint by Charlotte Stein
I was first introduced to Stein's work when I was reading the stories in the anthology Steamlust, and fell totally in love with her writing and unique voice. I'm slowly working my way through her stories, and when I saw this mentioned on Twitter last night I pretty much just snapped it up (for 99c!) I really love short stories/novellas, because it's hard for me to start/stop a book (and when I don't have much time to read, that's inevitably what happens) and Stein does short so well.
This is the description from Amazon, which gets the names wrong (they are actually Mallory and Artie):
Marnie Lewis is certain that one of her friends – handsome but awkward Brandon – hates her guts. The last thing she wants to do is go on a luscious weekend away with him and a few other buddies, to a cabin in the woods. But when she catches Brandon doing something very dirty after a night spent listening to her relate some of her sexcapades to everyone, she can't resist pushing his buttons a little harder. He might seem like a prude, but Marnie suspects he likes a little dirty talk. And Marnie has no problems inciting his long dormant desires.
Anyway, it's short, sweet, and sexy. I wasn't really sure if she'd pull off the romantic bits after Artie says something really horrible toward the beginning of the story, but by the end I was totally happy with it all.
One harsh note in this: The ebook formatting is off — for example, on my Kindle 2, the chapter headings have no styling … but in my desktop version of Kindle, the chapter headers are styled, but there's no start-new-paragraph indentations so the left margin is a solid line of text (although it looks fine on my Kindle.) But if that will bother you, a heads-up.
Deep Sky by Patrick Lee
This is the third book in the Travis Chase/Breach trilogy, and despite an ambiguous ending, was a solid conclusion to the series. These are thrillers with a dose of science fiction — popcorn reads, maybe, because I'd definitely love to see these as movies. I think I first heard of them because of a review of the second book at The Book Smugglers (and my response to the books mirrors hers.)
If you read these, definitely start at the beginning — The Breach.
The anomaly called the Breach is the government's most carefully guarded secret… Travis Chase of the covert agency Tangent—caretakers of the Breach and all its grim wonders has only twenty-four hours to unearth a decades-old mystery once spoken of in terrified whispers by the long since silenced.


I also finished the Karen Rose book mentioned in the last TBR post. Another solid suspense — though I find I prefer the serial killer books to the conspiracy books. So I'm hoping for more serial killers from Rose soon.
So, also on my TBR is:
Erotic Shorts
Again, I really like short stories and novellas. Bethany Kane is pen name for Beth Kery, whose work I've consistently enjoyed, so picking this up was a no-brainer. And when I found out that Annika Martin is Carolyn Crane, this was also another no-brainer for me. Kane's sounds dark and angsty, Martin's sounds quirky and fun — so a little something for any mood I might be in.
Bound to You by Bethany Kane
John Corcoran loved the isolation of the Shawnee National Forest with the crisp spring air, the sounds of nature, and the bracing scent of pine. Isolation is what movie star Jennifer Turner craved as well, an escape that only a weekend hike, a long and blissful distance from Hollywood, could provide.

Yesterday, they were strangers–until a fateful accident, deep in the forest and far from civilization, throws them together and plunges them both into darkness. For Jennifer it is as unnerving as the night itself, trapped in such close quarters with a man as mysterious as John. He is alpha: bold, rough, and masculine, but with a scent of firewood and spice she finds intoxicating.

In the dark, Jennifer's nightmares spring to life. The only way to vanquish them is by submitting to blind, naked need. Now, as intimately close as a man and a woman can be, they find themselves alone, battling fear and vulnerability. Only an unexpected passion will comfort them–a sensual, raw experience from which neither is certain they want to be rescued.
The Hostage Bargain by Annika Martin
When small town girl Melinda Prescott is taken hostage by three hot bank robbers, she quickly discovers that a life of bank heists, luxury hotels, and kinky menages is way more exciting than working on the family farm. She should be scared of her dominating, fierce captors…but there's something wicked inside her that's craving to obey their every dark desire.

Melinda eagerly throws in with her three smoldering fugitives…and soon realizes that these are no ordinary bank robbers—and that bad guys aren't always who they seem. But will her delicious captors overcome their own demons enough to let her in? And can they fight a conspiracy that's larger than all of them?

Warning: This book contains a sexy bank-robbers-and-their-captive sandwich, light bondage, spanking, teasing hints of domination, and a little play-time in a hot tub. Oh, and some all-too-delicious alpha heroes who bend the heroine to their will.
Paranormal Romance
When I went up to Seattle last month, Kira Brady gave me an ARC of her upcoming debut, Hearts of Darkness. I was already looking forward to the series, because I've known Kira for a while (though as a reader-blogger) and knew that she'd been away from the blog awhile to focus on the writing. I usually find that if I really enjoy someone's writing and voice in their blog posts, I have a tendency to enjoy their fiction, too — and if our reading tastes mesh, it's even more likely. So I was really hopeful.
Now I'm partway through the book, and I hope this takes off like a rocket. Wonderfully original worldbuilding AND great writing. I'll probably talk about it more after I've finished/as the release date nears, but I think this is definitely a book to watch for in August. Until then, there's a prequel novella coming out at the end of this month that I've already pre-ordered.
Hearts of Fire by Kira Brady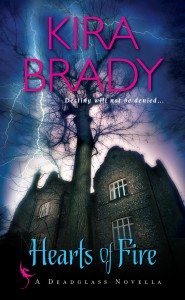 In the prequel to a stunning new paranormal series, one woman's desire for a forbidden man will spark a centuries-long supernatural conflict—and a love nothing can destroy.

She's the heiress to Seattle's most powerful shifter clan. Her destiny is as controlled and certain as moonrise. However, from the moment Alice Corbette encounters the man known as Brand, she will defy all constraint and break every rule to make this dragon-shifter hers. Brand is determined to repay the clan leader he owes his life to. But one taste of Alice's exquisite spirit will make him question his loyalty—and plunge them both into the middle of a ruthless power play. Their only chance at freedom is a gamble that could risk the future of humans and shifters alike…
Hearts of Darkness by Kira Brady
"In this dazzling debut, Brady blends Norse, Babylonian, and Native American mythology to create a dark and compelling story set in an alternate present day… This dark paranormal moves quickly to a thrilling finish, setting the stage for the next installment of this irresistible new series." -Publishers Weekly, starred review
Nurse Kayla Friday has dedicated her life to science and reason. But for her, Seattle is a place of eerie loss and fragmented, frightening memories. And now the only clue to her sister's murder reveals a secret battle between two ancient mythologies…and puts Kayla in the sights of lethally-sexy werewolf mercenary Hart. He'll do whatever it takes to obtain the key to the Gate of the Land of the Dead and free what's left of his soul. But seducing the determined Kayla is putting them at the mercy of powerful desires neither can control. And as the clock ticks down to hellish catastrophe, the untested bond between Kayla and Hart may lead to the ultimate sacrifice.
Romantic Suspense
I've heard a lot about Laura Griffin in the last year, so I actually have quite a few of her books waiting for me. But this is probably the one I'll read first.
Snapped by Laura Griffin
On a sweltering summer afternoon, Sophie Barrett walks into a nightmare. A sniper has opened fire on a college campus. When the carnage is over, three people—plus the shooter—are dead, and dozens more injured. Sophie escapes virtually unscathed. Yet as details emerge from the investigation, she becomes convinced that this wasn't the random, senseless act it appeared. No one wants to believe her—not the cops, not her colleagues at the Delphi Center crime lab, and definitely not Jonah Macon, the homicide detective who's already saved her life once.

Jonah has all kinds of reasons for hoping Sophie is mistaken. Involving himself with a key witness could derail an already messy investigation, not to mention jeopardize his career. But Sophie is as determined and fearless as she is sexy. If he can't resist her, he can at least swear to protect her. Because if Sophie is right, she's made herself the target of a killer without a conscience. And the real terror is only just beginning. . . .
The novella I'm actually reading next…
Because I'll be starting my Guardian retrospective posts soon. I haven't read this story in several years, so I'm wondering how it will hold up (or if it does, or if I'll hate myself.) We'll see.
In Regency England, a desperate lady is 'Falling for Anthony' when a childhood friend comes back from the dead to protect her brother from an unnatural evil.