So, I read for fun for the first time in a while this week! That was totally awesome. The book I read last night is not out yet, so I'll talk a little more about it when the time comes. Until then, I have a huge TBR. It's kind of scary/intimidating. I still won't be reading a ton of new stuff, because I'm also re-reading the Guardian series so that I can do my retrospective posts.
Anyway, when I was asking for site feedback and asking what readers would like to see, Sheila mentioned that she would like "What am I reading?" updates or recommended books. Since I haven't had much chance to read lately, my recommendations are pretty thin … but I do keep on buying a ton of books and sticking them on my TBR. So I thought I could make that a regular blog feature, instead: What I'm putting on my TBR, and why. So, here are books that I've bought in the past couple of weeks/months (and I have a ton more to add, but eight is probably enough for each post.)
The covers all link to the author's sites (or to Amazon, if I was really lazy or if I had difficulty navigating the author's site) so that you can read excerpts.
Steampunk romance
I actually have a ton of steampunk romances on my list that I want to eventually read, but I've been in "protecting the work" mode, and not reading a lot in this genre. So these are just two that I recently added — the first, because I really enjoy Zoe's work and I know she does Victorian-ish adventure/SF really well, and the second book because it's been getting some really great buzz.
Skies of Fire by Zoe Archer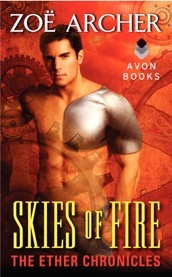 Man made of metal and flesh
Captain Christopher Redmond has just one weakness: the alluring spy who loved and left him years before…when he was still just a man. Now he's superhuman—a Man O' War, made as part of the British Navy's weapons program—and his responsibility is to protect the skies of Europe. If only he could forget Louisa Shaw.
A most inconvenient desire
Louisa, a British Naval Intelligence agent, has never left a job undone. But when her assignment is compromised, the one man who can help her complete her mission is also the only man ever to tempt her body and heart. As burning skies loom and passion ignites, Louisa and Christopher must slip behind enemy lines if they are to deliver a devastating strike against their foe . . . and still get out alive.
Wicked as They Come by Delilah S. Dawson
Have you ever heard of a Bludman? They're rather like you and me—only more fabulous, immortal, and mostly indestructible. (They're also very good kissers.)

Delilah S. Dawson's darkly tempting debut drops her unsuspecting heroine into a strange faraway land for a romantic adventure that's part paranormal, part steampunk . . . and completely irresistible.

When Tish Everett forces open the ruby locket she finds at an estate sale, she has no idea that a deliciously rakish Bludman has cast a spell just for her. She wakes up in a surreal world, where Criminy Stain, the dashing proprietor of a magical traveling circus, curiously awaits. At Criminy's electric touch, Tish glimpses a tantalizing future, but she also foresees her ultimate doom. Before she can decide whether to risk her fate with the charming daredevil, the locket disappears, and with it, her only chance to return home. Tish and Criminy battle roaring sea monsters and thundering bludmares, vengeful ghosts and crooked Coppers in a treacherous race to recover the necklace from the evil Blud-hating Magistrate. But if they succeed, will Tish forsake her fanged suitor and return to her normal life, or will she take a chance on an unpredictable but dangerous destiny with the Bludman she's coming to love?
Historical Romance
Meredith Duran is a sure thing for me. This is the latest one I picked up (but I confess — I'm behind on my reading, so I have a few others to catch up on first.) The same with Tessa Dare's — I'm totally behind, but they are piling up anyway because I plop the money down for them as soon as they release. Anyway, I just absolutely loved the excerpt on Tessa's site, so it pushed this book past a few others of hers. Bad, I know!
At Your Pleasure by Meredith Duran
Glittering court socialites and underworld cutpurses alike know that Adrian Ferrers, Earl of Rivenham, is the most dangerous man in London. Rivenham will let nothing—not the deepening shadow of war, nor the growing darkness within him—interfere with his ambition to restore his family to its former glory. But when tasked by the king to uncover a traitor, he discovers instead a conspiracy—and a woman whose courage awakens terrible temptations. To save her is to risk everything. To love her might cost his life.

Lady Leonora knows that Rivenham is the devil in beautiful disguise—and that the irresistible tension between them is as unpredictable as the dilemma in which Nora finds herself: held hostage on her own estate by Rivenham and the king's men. But when war breaks out, Nora has no choice but to place her trust in her dearest enemy—and pray that love does not become the weapon that destroys them both…
A Week to Be Wicked by Tessa Dare
When a devilish lord and a bluestocking set off on the road to ruin…
Time is not on their side.

Minerva Highwood, one of Spindle Cove's confirmed spinsters, needs to be in Scotland.
Colin Sandhurst, Lord Payne, a rake of the first order, needs to be… anywhere but Spindle Cove.

These unlikely partners have one week
to fake an elopement
to convince family and friends they're in "love"
to outrun armed robbers
to survive their worst nightmares
to travel four hundred miles without killing each other
All while sharing a very small carriage by day and an even smaller bed by night.

What they don't have time for is their growing attraction. Much less wild passion. And heaven forbid they spend precious hours baring their hearts and souls.

Suddenly one week seems like exactly enough time to find a world of trouble.
And maybe…just maybe…love.
Romantic Suspense
This is my go-to genre when I'm burned out (so are HPs, but that's another thing.) Karen Rose is always solid, and I started this one last night before I put it down at 1 AM. I realized that I missed a few books since the last Vartanian book so former h/h show up that had their books in-between … but you can start anywhere, I think. They are linked, but each one stands alone really well (except the Vartanian books! Don't try to start in the middle or at the end of the trilogy). The book by Elizabeth Haynes is a debut, and I first heard about it from Rosario's review here.
No One Left to Tell by Karen Rose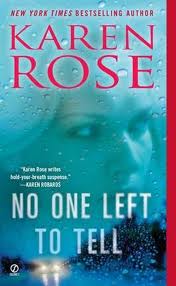 Set on the gritty streets of Baltimore, You Belong to Me kept readers "on the edges of their seats." Now, Karen Rose returns to the world of Baltimore's cops and prosecutors with a new tale of danger and desire…

A car crashes in front of rookie PI Paige Holden's home. And suddenly, she finds one of her pro bono clients dying in her arms—from a gunshot wound. With her last breath, the woman whispers cryptic words into her ear and hands her a blood-smeared flash drive.

Five years ago, State's Attorney Grayson Smith put a murderer behind bars. But when Paige Holden shares the flash drive with him, its contents cast doubts on the conviction—and lead him and Paige into a world of blackmail, dark secrets, and a decades-long string of murders. An investigation they'll survive only by trusting each other—and the truth.
Into the Darkest Corner by Elizabeth Haynes
Catherine has been enjoying the single life for long enough to know a good catch when she sees one. Gorgeous, charismatic, spontaneous – Lee seems almost too perfect to be true. And her friends clearly agree, as each in turn falls under his spell.

But there is a darker side to Lee. His erratic, controlling and sometimes frightening behaviour means that Catherine is increasingly isolated. Driven into the darkest corner of her world, and trusting no one, she plans a meticulous escape. Four years later, struggling to overcome her demons, Catherine dares to believe she might be safe from harm. Until one phone call changes everything.

This is an edgy and powerful first novel, utterly convincing in its portrayal of obsession, and a tour de force of suspense.
Other books
These are both because of recent movies I watched. The first is by Stephen Hunter, who wrote Point of Impact (which became the movie Shooter, briefly mentioned here). I read that earlier this week and enjoyed it, so I'm moving on to his next book, which isn't exactly in the same series but which is linked (at least, according to discussion on Goodreads, this is the best book to read next.) The other is also because of a movie, briefly discussed here.
Dirty White Boys by Stephen Hunter
They busted out of McAlester State Penitentiary–three escaped convicts going to ground in a world unprepared for anything like them….

Lamar Pye is prince of the Dirty White Boys. With a lion in his soul, he roars–for he is the meanest, deadliest animal on the loose….
Odell is Lamar's cousin, a hulking manchild with unfeeling eyes. He lives for daddy Lamar. Surely he will die for him….
Richard's survival hangs on a sketch: a crude drawing of a lion and a half-naked woman. For this Lamar has let Richard live…

Armed to the teeth, Lamar and his boys have cut a path of terror across the Southwest, and pushed one good cop into a crisis of honor and conscience. Trooper Bud Pewtie should have died once at Lamar's hands. Now they're about to meet again. And this time, only one of them will walk away….
We Need To Talk About Kevin by Lionel Shriver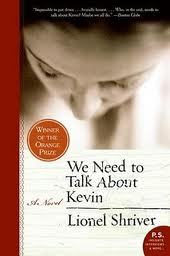 That neither nature nor nurture bears exclusive responsibility for a child's character is self-evident. But generalizations about genes are likely to provide cold comfort if it's your own child who just opened fire on his feellow algebra students and whose class photograph—with its unseemly grin—is shown on the evening news coast-to-coast.

If the question of who's to blame for teenage atrocity intrigues news-watching voyeurs, it tortures our narrator, Eva Khatchadourian. Two years before the opening of the novel, her son, Kevin, murdered seven of his fellow high school students, a cafeteria worker, and the much-beloved teacher who had tried to befriend him. Because his sixteenth birthday arrived two days after the killings, he received a lenient sentence and is currently in a prison for young offenders in upstate New York.

In relating the story of Kevin's upbringing, Eva addresses her estranged husband, Frank, through a series of startingly direct letters. Fearing that her own shortcomings may have shaped what her son became, she confesses to a deep, long-standing ambivalence about both motherhood in general—and Kevin in particular. How much is her fault?

We Need To Talk About Kevin offers no at explanations for why so many white, well-to-do adolescents—whether in Pearl, Paducah, Springfield, or Littleton—have gone nihilistically off the rails while growing up in the most prosperous country in history. Instead, Lionel Shriver tells a compelling, absorbing, and resonant story with an explosive, haunting ending. She considers motherhood, marriage, family, career—while framing these horrifying tableaus of teenage carnage as metaphors for the larger tragedy of a country where everything works, nobody starves, and anything can be bought but a sense of purpose.