The Iron Seas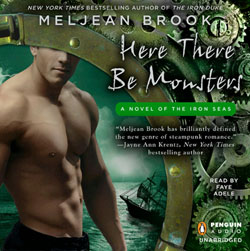 "Here There Be Monsters"
Two years ago, blacksmith Ivy, desperate to flee London, purchased her overseas passage by agreeing to spend the voyage in the bed of the pirate captain, Mad Machen. Saved at the last minute by his rival, Ivy scraped out a new life in Fool's Cove…until Mad Machen finds her, forces her to accept a job that will create a monster, and reminds her that she still owes him the price of a journey…
Narrator
Faye Adele.
Length
3 hrs, 46 mins.
Available at:
THE IRON DUKE
After the Iron Duke freed England from Horde control, he instantly became a national hero. Now Rhys Trahaearn has built a merchant empire on the power — and fear — of his name. And when a dead body is dropped from an airship onto his doorstep, bringing Detective Inspector Mina Wentworth into his dangerous world, he intends to make her his next possession.
Narrator
Faye Adele.
Length
13 hrs, 23 mins.
Available at:
HEART OF STEEL
As the mercenary captain of the Lady Corsair, Yasmeen has learned to keep her heart as cold as steel, her only loyalty bound to her ship and her crew. So when a man who once tried to seize her airship returns from the dead, Yasmeen will be damned if she gives him another opportunity to take control…
Narrator
Faye Adele.
Length
10 hrs, 15 mins.
Available at:
RIVETED
Annika serves on an airship, searching for her sister and longing to return home. But that home is threatened when scientific expedition leader David Kentewess comes aboard, looking to expose Annika's secrets. When disaster strikes, leaving David and Annika stranded on a glacier and pursued by a madman, their very survival depends on keeping the heat rising between them—and generating lots of steam…
Narrator
Alison Larkin.
Length
12 hrs.
Available at: