The Guardians is a romance series that straddles the line between paranormal and urban fantasy. In it, human men and women who have been given angelic powers fight demons, and fall in love along the way. The series includes an overarching storyline, but each book tells the story of a new couple who reaches their happily-ever-after, with a self-contained romance and plot (as a reader, I love a happy ending—as a writer, I'd never offer anything less.)
The Guardian series is complete and is listed below in the order of publication. The novellas take place outside of the main story arc. If you are starting after the first book, catch up with the primer!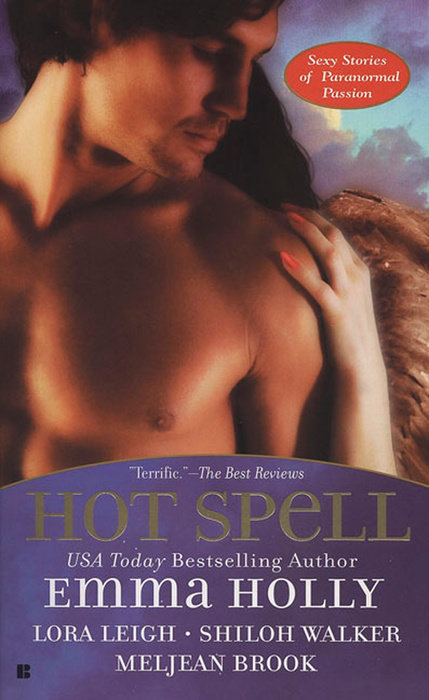 ISBN 978-0425212882
November 1, 2005
"Falling for Anthony" in Hot spell
The Guardians #0.5 (Novella)
Anthony & Emily
In Regency England, a desperate lady is Falling for Anthony when a childhood friend comes back from the dead to protect her brother from an unnatural evil.
"An emotional roller coaster for both the characters and the reader." –Romance Junkies
"…fantastic death-defying love…" –Fresh Fiction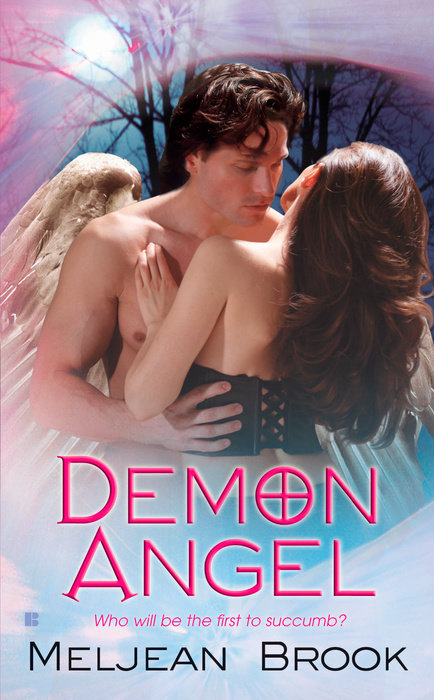 ISBN 978-0425213476
January 2, 2007
Demon Angel
The Guardians #1 (Novel)
Hugh & Lilith
For two thousand years, Lilith wrought vengeance upon the evil and the damned, gathering souls for her father's armies Below and proving her fealty to her Underworld liege. Bound by a bargain with the devil and forbidden to feel pleasure, she draws upon her dark powers and serpentine grace to lead men into temptation. That is, until she faces her greatest temptation—Heaven's own Sir Hugh Castleford…
Once a knight and now a Guardian, Hugh spent centuries battling demons—and the cursed, blood-drinking nosferatu. His purpose has always been to thwart the demon Lilith, even as he battles his treacherous hunger for her. But when a deadly alliance unleashes a threat to both humans and Guardians in modern-day San Francisco, angel and demon must fight together against unholy evil—and against a desire that has been too long denied…
Who will be the first to succumb?
"Extremely engaging…A fiendishly good book. Demon Angel is outstanding." –The Romance Reader
ISBN 978-0425225448
May 5, 2007


"Paradise" in Wild Thing
The Guardians #1.5 (Novella)
Selah & Lucas
Lucas Marsden has faced nosferatu before and survived, but he doesn't know how to defeat the demon who hunts the vampires in his community…
But he knows exactly what he wants from the beautiful Guardian sent to protect them.
"Once again, Brook plays with the notion of free will on multiple levels, adding hope to her dark world of demons and nosferatu, and substance to a genre that is too often dismissed as fluff." — Nicola, Alpha Heroes
Out of print; no ebook available.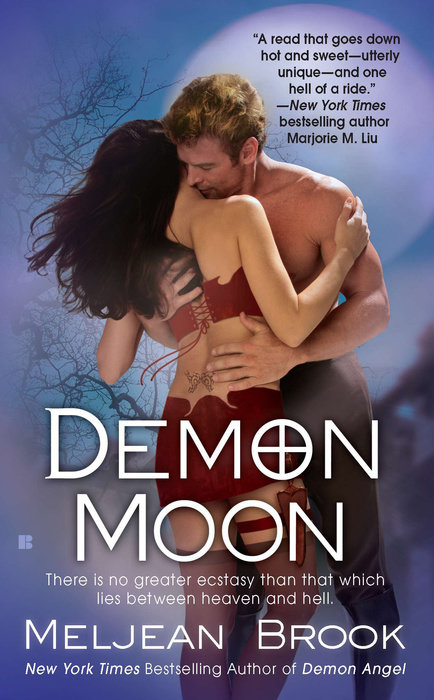 ISBN 978-0425215760
June 5, 2007
Demon Moon
The Guardians #2 (Novel)
Colin & Savi
Return to the sensual netherworld of Demon Angel for a startling romance of eternal love threatened by the consuming darkness of a Demon Moon…
No one would call vampire Colin Ames-Beaumont kind, but they would call him unnaturally beautiful. For two centuries his tainted blood has kept him isolated from other vampires, sustained only by his beauty and vanity—bitter comforts, since a curse has erased his mirror reflection, replacing it with a terrifying glimpse of Chaos.
Savi Murray's insatiable curiosity had gotten her into trouble before, but she'd always escaped unscathed. Then came Colin. In the midst of Heaven, he gave her a taste of ecstasy—and of Chaos. Deadly creatures from that realm herald the return of an imprisoned nosferatu horde, and Colin and Savi's bond is their only protection—and their only passion…
"A read that goes down hot and sweet – utterly unique – and one hell of a ride." –Marjorie M. Liu
"The fourth book in Meljean Brook's Guardian series turns up the heat without losing any of the danger or biblically tinged lore. A-" –Entertainment Weekly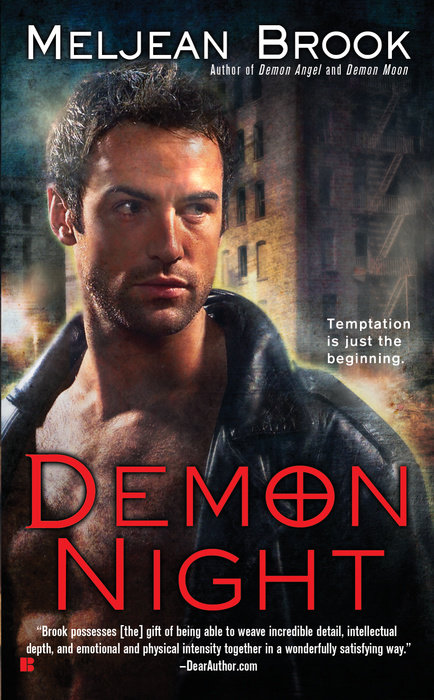 ISBN 978-0425219775
February 2, 2008
Demon Night
The Guardians #3 (Novel)
Drifter & Charlie
Explore the seductive corners of the dark, as a forbidden attraction tempts danger under the canopy of the…
Charlie Newcomb worked hard to get her life back together. But all that is shaken when she's set upon by three vampires desperate to transform her beauty into something evil. Because Charlie is the vital link to something they want—and need. It's Charlie's flesh and blood sister, a medical scientist whose knowledge could be invaluable to the predators.
But to get to her, they must first get to Charlie, now under the intimate protection of Ethan McCabe. As her Guardian, Ethan is attracted to her vulnerabilities—as well as her strengths. The closer he gets, the more protecting her becomes not just his duty, but his desire. But will it be enough to save Charlie when the demon night falls?
"[Brook] is truly one of the best voices out there. Sexy, exciting…a dark and sultry world." –Gena Showalter
"Charlie's traumatic past has left her believably afraid of her own needs, and Ethan is a brave, sweet guy with old-fashioned ideas about chivalry. Brook gives them distinctive dialogue and paints a fascinating, erotic world full of angels, demons, vampires and ambiguity." –Publisher's Weekly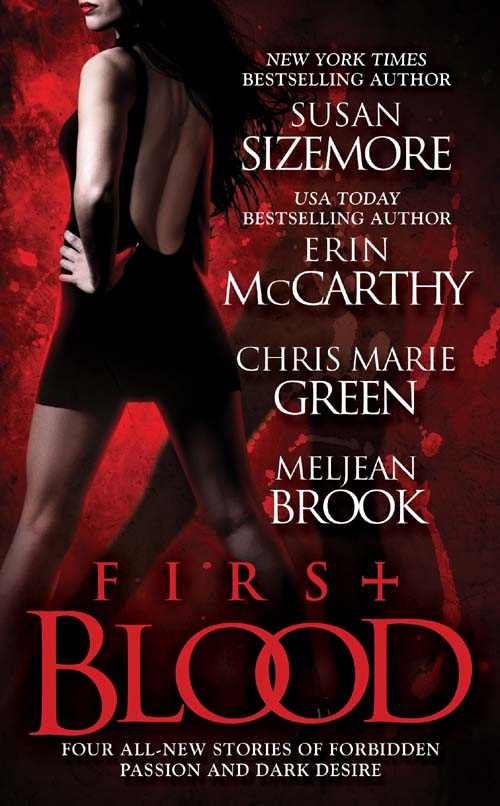 ISBN 978-0425224007
August 5, 2008
"Thicker Than Blood" in First Blood
The Guardians #3.5 (Novella)
Annie & Jack
A 2009 RITA® Finalist!
Annie Gallagher is the only survivor of a demon attack that exterminated every other vampire in her city. But she can't leave before she finds Cricket, a young human girl whose vampire guardians have been killed. Annie needs help, but the rules of her kind demand that she operate in secrecy.
And when help comes, it's from the one man she never expected…
"…a wonderful novella, with strong characters, an intriguing plot, and–of course–a good dose of blood and sex to boot." –The Book Smugglers
"…four great vampire stories for readers who enjoy their romances with a bit of bite." —Romantic Times BOOKreviews
Out of print; no ebook available.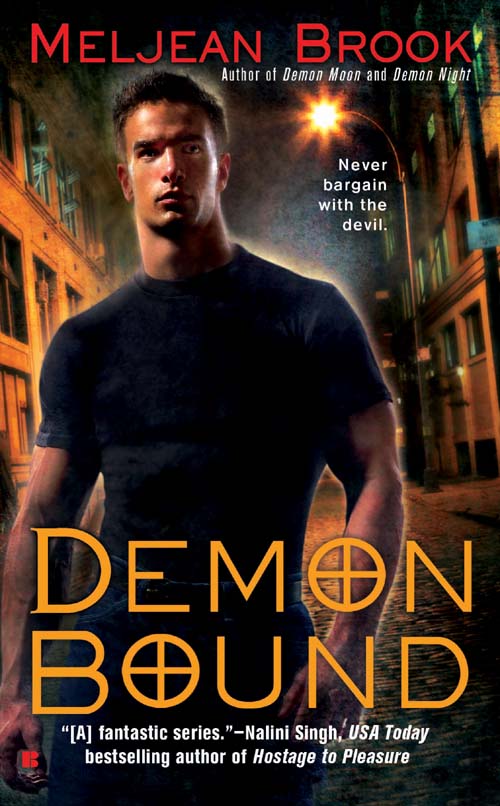 ISBN 978-0425224533
November 4, 2008

Demon Bound
The Guardians #4 (Novel)
Alice & Jake
The seductive and dangerous world of the Guardians now yields a secret that threatens the soul of a woman and the fate of the universe, both…
Among the Guardians, Alice Grey is known as the Black Widow—a woman trapped in a web spun by the demon Teqon. To save her soul, she agreed to deliver to Teqon the heart of the oldest and most powerful Guardian of all, or else be damned for eternity. After more than a hundred years, Teqon is calling in his debt.
Jake Hawkins is a novice Guardian whose gift of teleportation could be invaluable to Alice in determining her next move. But in aligning himself with her he never expected to fall in love. Now, their passionate flight to escape Alice's damnable bargain is threatening both their souls. For they're about to discover a hellish secret about the Guardians—something that will change their universe forever.

"Readers will be blown away by the fascinating and unique heroine." –Romantic Times BOOKreviews
"…raises the bar on paranormal romance for sheer thrills, drama, and world-building, and hands-down cements Brook's place at the top of her field." –Romance Junkies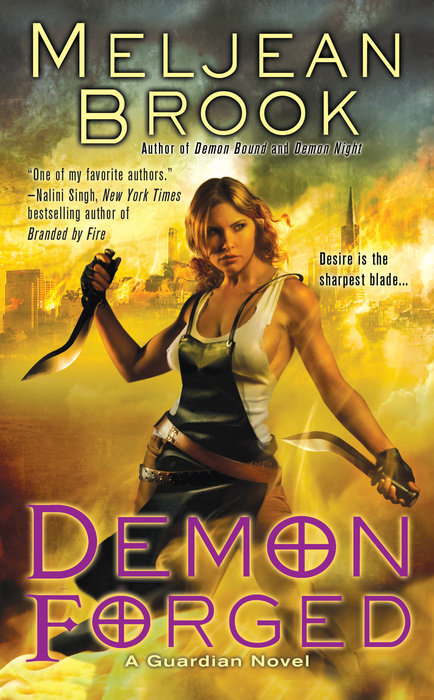 ISBN 978-0425230411
October 6, 2009

Demon Forged
The Guardians #5 (Novel)
Irena & Alejandro
Return to the darkly sensual world of the Guardians with a tale of a prophecy, a devilish bargain, and doomed love…
An RT BookReviews 2009 Reviewers' Choice Nominee!
Four centuries ago, Irena and Alejandro would have succumbed to the need smoldering between them — if a demon and a monstrous bargain hadn't shattered the possibility of love. Torn apart by shame, Irena avoided Alejandro for centuries — until a vampire's call for help throws her into his arms again.
Alejandro can control fire, but he's never been able to control — or quench — the flames between him and Irena. And he knows Irena, hardened by her hatred for demonkind, will never accept that he now works at a demon's behest. But even as he fights for a second chance, a shocking betrayal and a deadly prophecy shake the foundations of the Guardian universe, and all Hell threatens to break loose…
"A dark, gripping read…the characters are brilliant, and the breathtaking romance, vivid setting and darkly delicious adventure will immerse readers in this spellbinding world until the satisfying conclusion. ★★★★½!" —RT Book Reviews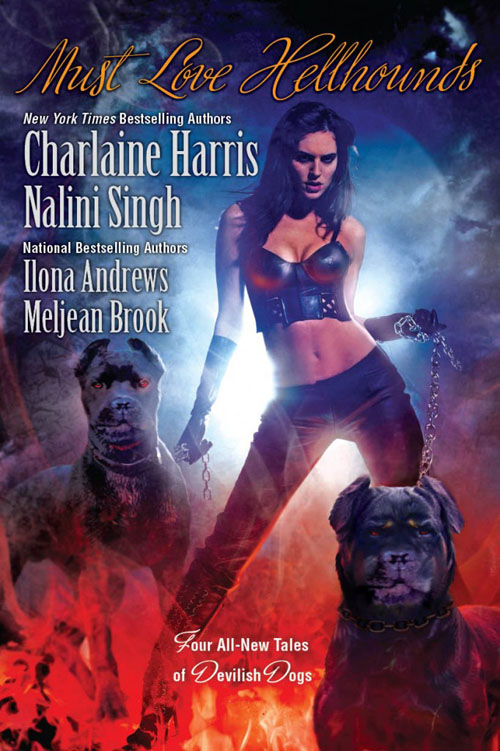 ISBN 978-0425236338
September 3, 2009

"Blind Spot" in Must Love Hellhounds
The Guardians #5.5 (Novella)
Maggie & Geoff
The job was simple: find her boss's niece, bring her home safely, and hand out a whole lot of pain to whoever had abducted her. But Maggie hadn't counted on her boss's nephew, the hellhound who loved to make her life difficult, or her own past rearing its complicated and ugly head.
Note to my readers: Although MUST LOVE HELLHOUNDS was published a month before DEMON FORGED, the story in the anthology takes place after the events of DEMON FORGED.
"Page-turning romance…" –Publishers Weekly
Out of print; no ebook available.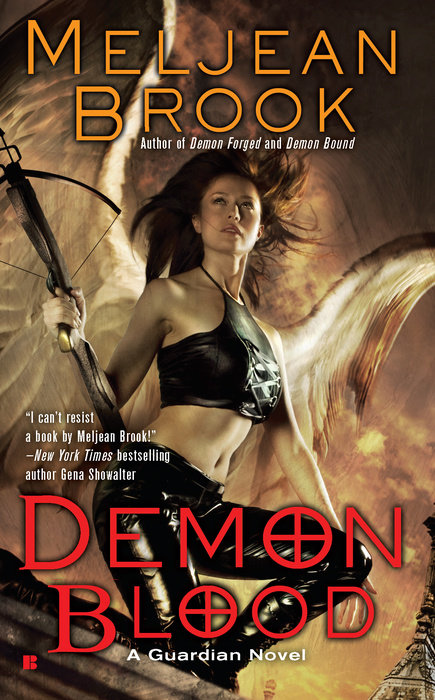 ISBN 978-0425235478
July 6, 2010

Demon Blood
The Guardians #6 (Novel)
Deacon & Rosalia
Long before she was transformed into a Guardian and trained to fight demons, Rosalia knew darkness all too well. Raised by a demon, Rosalia learned to guard her heart—and her soul—until she found a man worthy of her love. Once, she thought that man would be the powerful vampire, Deacon…until he betrayed the Guardians.
After losing everything to the lies of a demon, Deacon lives only for revenge—and is taken aback when Rosalia offers to help. A vampire who has nothing—who is nothing—isn't worthy of her attention. But Rosalia wants to do more than just look, and the explosive need between them can't be held in check. And when Deacon's vengeful quest creates a dangerous alliance of their enemies, she will be his only hope…
"Brook brings together two broken heroes in the high-stakes sixth Guardian paranormal romance… Fans won't be disappointed."
—Publishers Weekly
"Brook's characters leap from the page. Deacon is the perfect hero, tortured but worthy, and Rosalia is just the woman to save him.
★★★★½!" —RT Book Reviews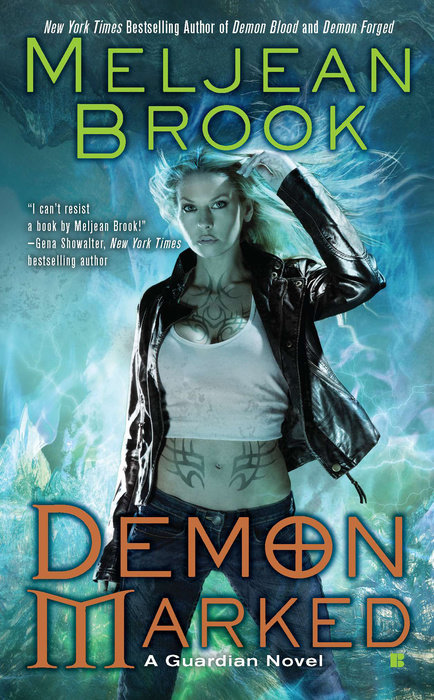 ISBN 978-0425242698
September 6, 2011

Demon Marked
The Guardians #7 (Novel)
Ash & Nicholas
A stunning and sexy addition to the world of the Guardians about one man's revenge against the half-demon he once loved…
Nicholas St. Croix is familiar with the evil of demons. After his father's death, a demon took over his mother's body and raised him. Six years ago, his "mother" was responsible for the disappearance of the woman he loved, and Nicholas swore he'd find her—even if he had to go to Hell and back. Except she finds him first—and with one tormented kiss, he knows she too is a demon. Now he is determined to take his revenge…
Ash is a half-demon with no memory of her past or how she got to Hell. All she knows is that Nicholas St. Croix holds the key to her identity. And though he's clearly drawn to her, Nicholas makes no secret of his distrust of her. Yet one kiss at a time, he breaks down her defenses as they battle an array of demons and Guardians. But is Ash's greatest enemy the man at her side?
"The award-winning Brook adds another multifaceted and intense drama to her already impressive Guardian series. ★★★★½!" —RT Book Reviews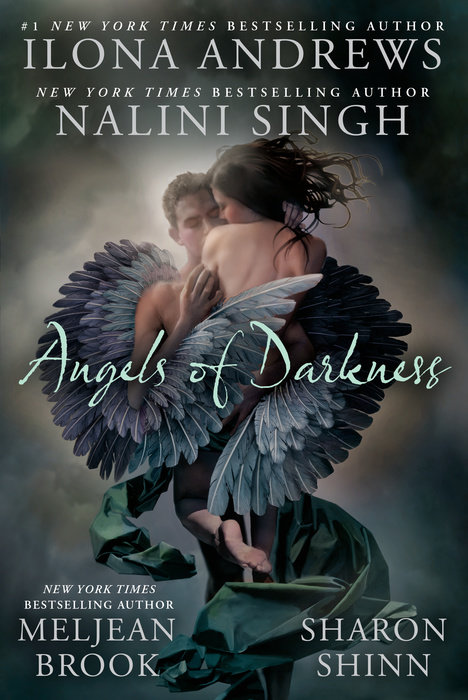 ISBN 978-0425243121
October 4, 2011

"Ascension" in Angels of Darkness
The Guardians #7.5 (Novella)
Radha & Marc
When vampires begin disappearing from a community protected by Guardian Marc Revoire, the world-weary warrior doesn't know whether he's hunting a demon or one of the bloodthirsty nosferatu — but he'd rather face either of those monsters than accept help from Radha, the irreverent, blue-skinned, and oft-naked Guardian who'd once loved him and left him. He won't be able to persuade her to leave this time, however, because lighthearted Radha is on a deadly serious mission of her own: not just to help Marc save the community…but to save him.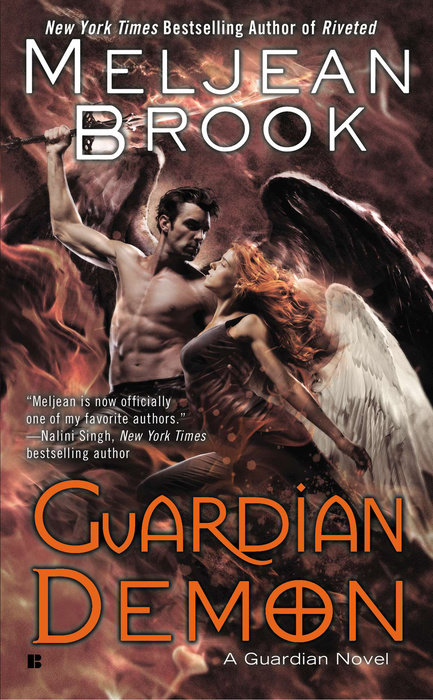 ISBN 978-0425250983
August 6, 2013

Guardian Demon
The Guardians #8 (Final Novel)
Taylor & Michael
In this thrilling conclusion to the Guardian series, New York Times bestselling author Meljean Brook delivers another stunning page-turner, in which the fate of humanity depends upon a tortured warrior winning the trust—and heart—of the woman he wounded…
After a terrifying encounter in Hell destroys her trust in Michael, the Guardian's powerful leader, former detective Andromeda Taylor is ready to call it quits as one of the angelic warriors and resume her human life again. But when demonic forces threaten her closest friends and she uncovers a terrifying plot devised by Lucifer, Taylor is thrown straight into Michael's path again…
To defeat Lucifer, Michael needs every Guardian by his side—and he needs Taylor more than any other. The detective is the key to keeping his own demonic side at bay, and Michael will do anything to protect her and keep her close. And when Taylor manifests a deadly power, her Gift might tip the scales in the endless war between Heaven and Hell…or it might destroy them both with a single touch.