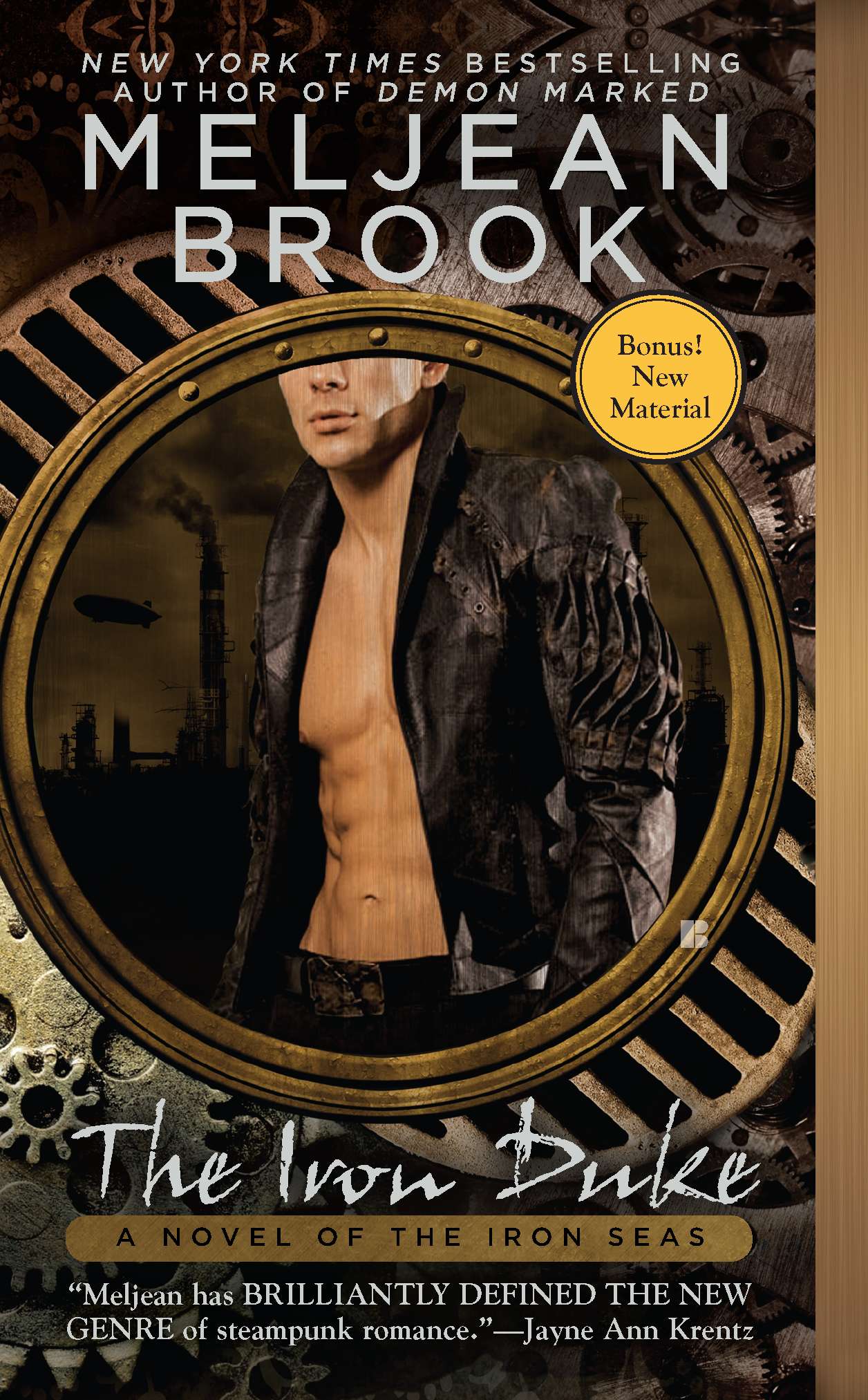 AUDIOBOOK

The Iron Duke, read by Faye Adele. Available at Audible.com, iTunes, and wherever audiobooks are sold.
The Iron Duke
A Novel of the Iron Seas
"With The Iron Duke, Meljean Brook has brilliantly defined the new genre of Steampunk Romance. I loved it!" —Jayne Ann Krentz
One of Publishers Weekly's Best Romances of 2010, winner of All About Romance's Annual Reader Poll for Best Paranormal Romance, and a RT BookReviews Reviewers' Choice Award Winner!
After the Iron Duke freed England from Horde control, he instantly became a national hero. Now Rhys Trahaearn has built a merchant empire on the power — and fear — of his name. And when a dead body is dropped from an airship onto his doorstep, bringing Detective Inspector Mina Wentworth into his dangerous world, he intends to make her his next possession.
Mina can't afford his interest, however. Horde blood runs through her veins, and despite the nanotech enhancing her body, she barely scratches out a living in London society. Becoming Rhys's lover would destroy both her career and her family, yet the investigation prevents her from avoiding him…and the Iron Duke's ruthless pursuit makes him difficult to resist.
But when Mina uncovers the victim's identity, she stumbles upon a conspiracy that threatens the lives of everyone in England. To save them, Mina and Rhys must race across zombie-infested wastelands and treacherous oceans — and Mina discovers the danger is not only to her countrymen as she finds herself tempted to give up everything to the Iron Duke.
"…a stunning blend of steampunk setting and poignant romance – smart, sexy, breathtaking, and downright addicting." —Ilona Andrews, New York Times bestselling author of Magic Bleeds
"…a high seas/airborne adventure that's filled with zombies, pirates and deadly betrayal. Along with the pulse-pounding adventure, there's plenty of seriously sensuous sizzle for readers to enjoy."
½!

—RT BookReviews
"With adept writing and a flair for creating believable worlds, Brook's first in the Iron Seas series showcases her masterful storytelling." —Booklist
ISBN 0425244261
October 5, 2010
$7.99
Note: The ebook version of The Iron Duke does not include the epilogue novella. Only the mass-market print edition does.
<– The previous book in the series
The next book in the series –>
EPILOGUE NOVELLA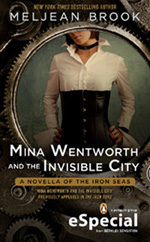 Click for more.
REVIEWS
"With The Iron Duke, Meljean Brook has brilliantly defined the new genre of Steampunk Romance. I loved it!" —Jayne Ann Krentz, New York Times Bestselling Author
"…a stunning blend of steampunk setting and poignant romance – smart, sexy, breathtaking, and downright addicting." —Ilona Andrews, New York Timesbestselling author of Magic Bleeds
"…a high seas/airborne adventure that's filled with zombies, pirates and deadly betrayal. Along with the pulse-pounding adventure, there's plenty of seriously sensuous sizzle for readers to enjoy." (4½ stars, Top Pick!) —RT BookReviews
"With adept writing and a flair for creating believable worlds, Brook's first in the Iron Seas series showcases her masterful storytelling." —Booklist
"The Iron Duke was an intense read that created conflicting emotions in me, but which in the end proved a gripping experience I wouldn't have wanted to miss. The Iron Seas series has catapulted itself on my autobuy list … I recommend it most highly." —All About Romance
(Starred Review) "Airships, zombies, nanotechnology, outlandish secondary characters, and a complicated heroine–who goes from believing "Dead people of all sorts were more tolerable than most of those living" to being willing to love–make for a complex, gripping read." —Publishers Weekly