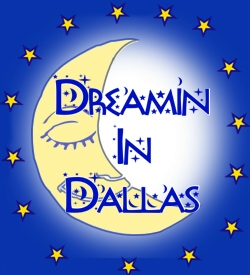 I'm attending the Dreamin' in Dallas conference this weekend in Richardson, TX (webpage for the conference here, complete with location details.) The booksigning on Friday night is open to the public, so if you're in the area, I'd love to see you!
The public booksigning is on March 29th at 6:30-8:30pm. I'll also be giving the breakfast keynote, and giving two workshops:
Worldbuilding: Creating Worlds that Won't Fall Apart

Whether futuristic, historical, or paranormal, every story needs a world with a solid foundation. This workshops describes how to build that world from the top to the bottom, how to use the setting to enhance the romantic conflict…and how to keep it from falling apart in the middle of your book (or your series).

Steampunk: Writing through 21st Century Goggles

Exciting adventure, passionate romance, giant robots — what's not to love about steampunk? This workshop provides an introduction to the genre with an overview of its origins, more about the 'steam' and the 'punk,' and tips for creating strong characters and technologies in your own steampunk romance.
I hope to see you there!