FAQ: Do I do cover work for hire?
Since my name showed up in the credits of Jen Frederick's UNDECLARED, I've gotten a few questions about cover art that I've been doing — I don't do it for hire, I'm sorry! It's just something that I play with when I have a little time (not often) and when friends catch me at just the right moment.
But I've put a page up to show the covers I've done. The most recent is Jill Myles's BETROTHED, a fantasy romance. Isn't it purty? It's a darker romance than we usually see from Jill and so we tried to reflect that in the artwork.
There are more, but they haven't had their official reveals yet, so I'll probably post those as they become available.


The 99¢ promotional price for Fire & Frost is ending!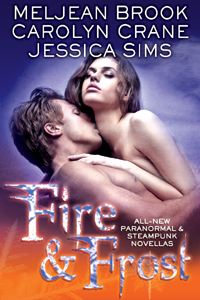 Just a reminder! Fire & Frost will be going up to $2.99 (still a good deal!) this weekend. As of now, it's still 99c!
Thank you so much to everyone who has already purchased a copy! The reviews have been tremendous, too — I'm so glad you've been enjoying it!
In the next week or so we will also be publishing a compiled version of Fire & Frost and Wild & Steamy. The list price for that will be lower than the $2.99 + $2.99, so if you miss any of the sales, you can still get both anthologies for a lower price than buying them separately.
And this is my last Fire & Frost post! I swear! 😀