It's that time again! I have four ARCs of DEMON BLOOD to give away on this site. No hoops to jump through — you just have to comment before midnight on April 24th to enter. But! there is a small catch.
These are advance review copies, and I'd really love it if they were used as such. So if you win one, please review it somewhere by the week of July 6th: on your blog, on an online bookseller's site, Goodreads or Library Thing, wherever. I'm not asking for positive reviews, or even detailed reviews — just reviews. If you don't think you can read it by July, please pass on these advance copies; I intend to give away several final copies when the book is released, so you can try again, then.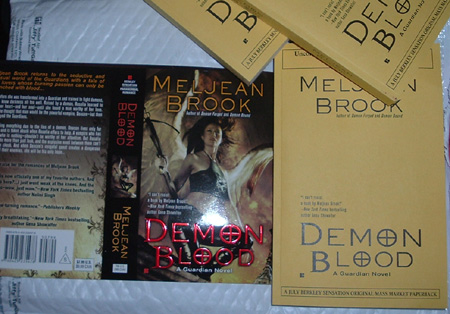 About the ARCs: these are the yellow-covered bound copies, and are copy-edited (by Berkley, but the version in these ARCs doesn't have my copy-edits entered yet.) That means that there are more errors than in a final version, and that some dialogue, sentences, and descriptions are different than will be in the final version. There are no substantial differences in plot, characters, or any of the scenes, but a few passages have been altered and some small references changed or clarified. More pronouns have been clarified. If you have any questions while reading, I'll be more than happy to answer and/or send you the corrected passage, if applicable.
For new readers to the Guardian series: Everything you need to know is included in the first three chapters. Seriously, it's the longest prologue, ever. You won't have the same emotional connection to some of the recurring characters, but you (hopefully) won't be lost, so feel free to give DEMON BLOOD a try.
Sorry, a cover flat isn't included, because that's the only one I have. I just put it in the picture because it's pretty. You will get bookmarks, though.
So, the rules: Comment by midnight PST on 4/24/2010 for your chance to win. Four winners will be selected randomly using random.org, and their names posted on this blog 4/25/2010. Only one entry per ISP address. The contest is open to international readers. No purchase necessary to enter, but a good faith effort to review the book by the release date is deeply appreciated. Odds of winning depend on number of entries received. Void where prohibited.