This anthology was a long time coming. I outlined the story for Salvage way back in 2010 (I thought it would be in the Wild & Steamy collection, but then I realized it would be much longer than the short stories we'd planned for that anthology.) Shortly after I decided to include a different story in that book, my editor asked me to participate in this anthology, and I told her that I wanted to include Salvage. That was originally slated for publication in 2012, but with one thing and another, was pushed back to this summer. So Thom and Georgiana have been living in my head for quite a while — almost as long as Ivy and Mad Machen — and I'm super-pleased that their story is finally out there. You can read an excerpt here.
Big Thom briefly appeared in Heart of Steel, but you don't need to remember that to enjoy his story. This novella was written to stand alone, and although we hear mention of familiar names, we don't really see those characters. All of the worldbuilding that you need to understand the story is included in the novella — but if you need a refresher or if you are new to the Iron Seas world, don't forget that I have an Iron Seas guide on my site.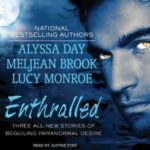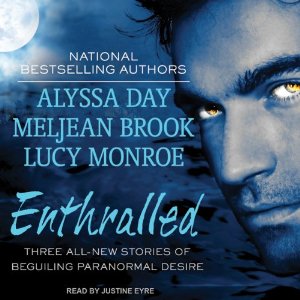 Even though I first began planning for the story way back when, it's set after Tethered and Wrecked and before this winter's The Kraken King — so I have it as Iron Seas #3.5 on my series list.
For Audiobook Readers:
Please note that the audiobook edition of Enthralled does NOT include Lora Leigh's story! I believe that the rights to that story were sold separately.

Audiobook
---
New York Times bestselling author Meljean Brook delivers a new story in her steampunk world of the Iron Seas…
"Salvage"
A man who's lost everything returns home to find that not only is his marriage in jeopardy, but he must now fight air pirates who intend to steal his one remaining treasure — his wife.
They have the power to hold you spellbound, to captivate your senses, and to keep you forever in their control. Forever enthralled…
#1 New York Times bestselling author Lora Leigh returns to her sensual world of the Breeds…as one stubborn Breed meets her match, and can no longer deny her mate—or the fierce desires of her own heart.
New York Times bestselling author Alyssa Day introduces the League of the Black Swan…and the dangerous game one woman plays when her family's curse dooms her to kill the man she loves.
And Lucy Monroe, national bestselling author of the Children of the Moon novels…unleashes the feral passions of a werewolf on the body, mind, and soul of his prey, his lover, his lifemate.