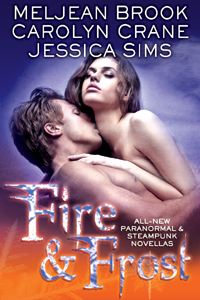 The uploads actually went live at most bookstores this holiday weekend, but we did those early just in case we hit any snags — but now the print is available, too, and Fire & Frost is officially out!
The ebook is 99¢ for a limited time!

|
Kindle
|
Nook
|
All Romance eBooks
|
Kobo
| iTunes (coming) | Sony (coming)
From the authors who brought you Wild & Steamy come three all-new tales of lovers who create their own heat, even when they're surrounded by ice…
Speed Mating by Jessica Sims – Estrella may be going into heat, but she's determined to remain in control. Just because she's ovulating doesn't mean she has to settle for just any man (or his beast). Her sexy alpha's determined to find her a tiger to take care of her heat and father her child…but no one seems to look quite as good as the man in charge. Will giving in to her need for her alpha ruin her tenuous relationship with her clan or be a match made in heaven? (16K words)
Conjuring Max by Carolyn Crane – The witches of the world ridiculed and rejected nerdy Veronica for trying to use newfangled computers to enhance old world spellcasting. Well, it's 1984 now, and she's perfected her spellcasting computer program. Hey, who needs friends when you can conjure virtually anything…or anybody? So when Veronica makes powerful new enemies, she conjures Max, a pitbull of a cop, to deal with the pesky hitmen who keep coming around. Maybe Veronica can finally get some peace and quiet so she can work on her computer. But tough-guy Max is in no mood to play lapdog to a gorgeous witch. (25K words)
Wrecked by Meljean Brook – A Tale of the Iron Seas – Elizabeth has spent the past five years running from her father; her father's huntsman, Caius, has spent the past five years pursuing her. But when he finally catches up to her on an airship flying above Europe's zombie-infested cities, Elizabeth discovers that Caius isn't the only danger she has to fear–and now that he's found her, Caius doesn't intend to let her go… (30K words)
Also Available in Print!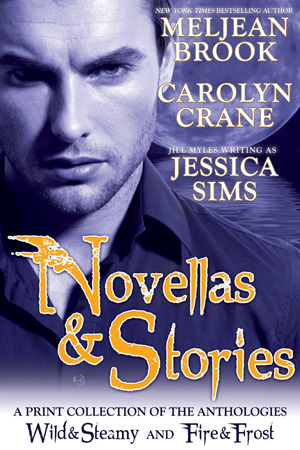 Many readers weren't able to read Wild & Steamy last time because they didn't have an ebook reader or preferred print. One anthology wasn't long enough to justify the trade-sized price that comes with self-publishing a print novel — but combined with Fire & Frost, we've got a lovely 370 page book!
It's called Novellas & Stories, and includes all six novellas and stories from the two anthologies. This should soon be available through most libraries and online bookstores (and you should be able to order it through your local bookstore and library, as well, but don't expect to see it on the shelves! It probably won't be ordered unless someone has asked for it.)
I'll add more links as they come available, but as of today it has only populated the catalogs at CreateSpace and Amazon.
Happy reading! I hope you love our anthology 🙂