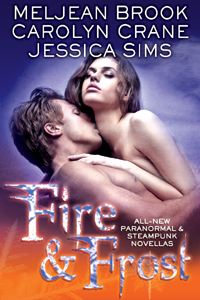 Real life totally got in the way of my planned release date — I'm so sorry about that! The good news is: it's in the hands of proofreaders and should be uploaded this weekend (and available at most stores ASAP.)
The extra good news is: I only intended it to be 13,000 words, like Newberry's story in Wild & Steamy. Fire & Frost's story, Wrecked, is more than twice that long. 😀
The extra, extra good news: It's going to be 99¢ for the first week or two.
If you want an e-mail notification when I have a few live bookstore links available, you can sign up for that here (if you are already signed up for my newsletter, you don't need to enter your e-mail — I'll be sending out the newsletter notification at the same time). This form is just for a one-time notice:
It's out! *happy dance!*
For a limited time, only 99¢!
Other bookstores will be added soon! I will keep a list of all available vendors on Fire & Frost's website page — so if you are looking for the book at Kobo, iTunes, or another vendor, I will have those links listed there as soon as they are available. If you are wondering whether the book will be available at your favorite store, please feel free to contact me!
The print compilation of Wild & Steamy and Fire & Frost will be available this week, as well. This will have a different cover, so don't be confused! It will be called Novellas & Stories.