Please note: If you are reading this somewhere other than Meljean's official blog, please go there to enter. Comments at other sites will not be counted as entries.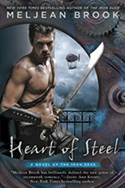 It's that time again! I have four (4) ARCs of HEART OF STEEL to give away on this blog. No hoops to jump through — you just have to comment before midnight on Sunday, September 25th to enter. But! there is a small catch.
These are advance review copies, and I'd really love it if they were used as such. So if you win one, please review it somewhere by the week of November 1st: on your blog, on an online bookseller's site, Goodreads or Library Thing, wherever. I'm not asking for positive reviews, or even detailed reviews — just reviews. If you don't think you can read it by November, please pass on these advance copies; I intend to give away several final copies when the book is released, so you can try again, then. (If you want to be reminded of the release, you can sign up for the Postcard Mailing List or the Email Newsletter.)
About the ARCs: these are the yellow-covered bound copies, and are copy-edited, but they haven't gone through that final proofreading pass. That means that there are more errors than in a final version, and that some dialogue, sentences, and descriptions are different than will be in the final version. There are no substantial differences in plot, characters, or any of the scenes. If you have any questions while reading, I'll be more than happy to answer and/or send you the corrected passage, if applicable.
About HEART OF STEEL: This is the second full-length novel in my steampunk romance series, The Iron Seas. To read a description and an excerpt, go here. To learn more about steampunk, click here, and you can read about the alternate history of the Iron Seas world here.
So, the rules: Comment by 11:59:59 PM Pacific time on 9/25/2011 for your chance to win. Four winners will be selected randomly using random.org, and their names posted on this blog 9/26/2011. Winners must provide Meljean with their mailing address by October 5, 2011 or the winner will be re-drawn! Only one entry per ISP address. The contest is open to international readers. No purchase necessary to enter, but a good faith effort to review the book by the release date is deeply appreciated. Odds of winning depend on number of entries received. Void where prohibited.