CONTEST CLOSED.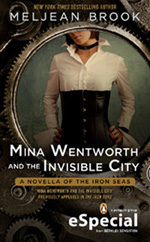 Whee! It's almost release time. So of course I'm giving away copies of this epilogue novella. And because it's an ebook release, this will happen just a little differently than the others.
I will be giving away ten (10) copies of Mina Wentworth and the Invisible City. Please note: This is an epilogue novella set after the events of The Iron Duke. This is also an ebook. On the day of release (August 7) I will send the books to the winners via the "Give as a Gift" function at Amazon.com, B&N.com, Kobo.com, or any online bookstore that allows me to send the book as a gift.
How to Enter:
This is my first story that takes place after a Happily-Ever-After, so I'll totally admit that I'm a bit nervous, and it was completely different from writing a romance-romance. So I'm wondering: Can you think of any favorite stories/books that take place after the Happily-Ever-After? Please comment below!
(If you can't think of any, you can say that, too.)
Last Date to Enter:
Sunday, August 5th, at 11:59:59 PM Pacific time. Winners will be announced on this blog on August 6th and notified by e-mail.
How I Pick Winners:
Winners will be chosen using this handy-dandy giveaway plug-in that picks random entrants from the comments.
International Readers
This is open to international readers, and as far as I can tell, the novella should be available outside the U.S. (It's available for pre-order in the UK, for example.) So I'll try to send the book to you as a gift, but if that fails, I might resort to sending you a mass-market edition of The Iron Duke, which includes this novella.
Print Readers
If you don't have an ebook reader and you win a copy of this book, I'll be more than happy to guide you through setting up a free ebook reading program on your computer or phone. If another issue prevents you from reading digital books (eye-strain on the screen, for example) please let me know privately via e-mail after the winners have been announced.
Readers New to the Iron Seas
If you haven't read The Iron Duke, you might want to check out this feedback from test readers who volunteered to read the novella without having read the novel. (Part 2 of that feedback is coming soon. I suspect that the others haven't responded yet because it wasn't as easy for them to get into the books, so even though Part 1 is mostly positive, please keep that in mind.)
Official Rules:
Comment by 11:59:59 PM Pacific time on 08/05/2012 for your chance to win. Ten winners will be selected randomly using a WordPress giveaway plugin, and their names posted on this blog 08/06/2012. Winners must provide Meljean with their e-mail or mailing address by August 31, 2012 or the prize will be forfeit. Only one entry per ISP address. The contest is open to international readers. No purchase necessary to enter. Odds of winning depend on number of entries received. Void where prohibited.