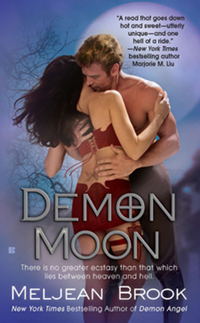 I've had a couple of readers mention that they've had a hard time finding new, readily available print copies of Demon Moon from online stores — it's unavailable at Barnes & Noble, has a ship date of 6-9 days at Amazon, is unavailable at The Book Depository, and out of stock at my publisher's site.
A few places to find it are at Powell's Books, Jan's Paperbacks (I think all of the copies there are signed, too), and Indiebound.
There are also used and new copies still at Amazon and B&N, shipped from third-party bookstores — you just have to click on those links.
I'm not sure if it is out of print, or just between printings and out of stock. I'll find out and post an update.