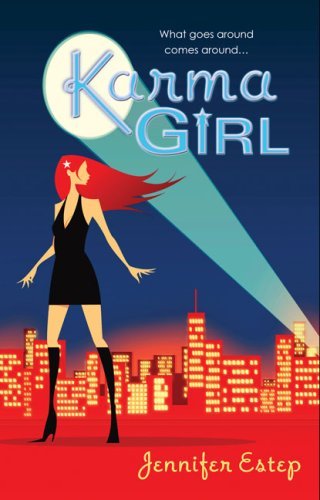 I have been dying for this book to arrive on my doorstep from Amazon. I've been lusting over it since I heard of the concept, my interest hit crazy heights after I saw the cover (I think I squeed). It isn't here yet — but it releases today. And really, a girl like me, what more could I want? I'll be reviewing it later this month (aka the time when I get my manuscript finished) — hopefully I won't squee too much then, because it gets so embarrassing.
Also, Jennifer Estep has the Coolest. Site. Ever. And her guest author day at The Good, The Bad, and the Unread? Has enough mentions of superheroes to make my heart go pitter-patter (not to mention a great Wonder Woman video). How does Jennifer describe her books?
The Bigtime books, including Karma Girl and the sequel Hot Mama, are classified as paranormal romance. There's lots of sexy superheroes in them, and lots of single gals looking for love.

But the books are written in first person from one character's point of view, which gives them a chick-lit feel and tone. Also, large parts of the books are about the heroine's journey, about her figuring out some things about herself – like how to come to grips with her superpower (if she has one), what she wants out of life, how she can become a better person, what makes her strong and special, etc.

The Bigtime books also have quite a bit of action in them. Lots of stuff blows up, buildings get leveled, etc. They're set in a comic book world, which isn't your usual paranormal setting. And they're very campy, very tongue in cheek, sort of like the old "Batman" TV show with Adam West.
'Nuff said.
It should be in stores today!