Well, it's been kind of a crazy week, hasn't it? To everyone in Boston and West, Texas — I can't imagine how painful and terrifying this must have been (and still is). But judging by what I've seen online, the thoughts of millions of people are with you. I hope it helps a little.
Anyway. I hope everyone has a safe and happy and uneventful weekend. Take a rest. Hug someone you love. Read a happy book. Give blood. Try not to read the comments on news sites. And remember that there are far more amazing and wonderful people out there in the world than there are bad ones, and far more people willing to help others than there are willing to hurt others.
---
And some far more trivial news: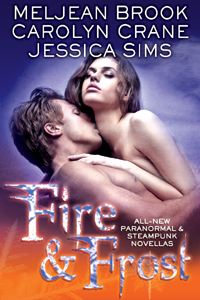 I've finally updated my news page, which had been sadly neglected. If you've been following the blog, though, there's nothing new there.
I've also added a description for "Wrecked," my novella in Fire & Frost, along with a website page for the anthology. No excerpt yet, but I'll be adding that as soon as the story is finished and edited.
I've heard that Berkley is mailing out print ARCs of Enthralled to reviewers — I hope everyone who receives the anthology enjoys it! That story will be available in print and ebook on July 2nd. A description and excerpt are available here.
Oh, and there's also going to be another story coming from me in May, but I'll talk about it more after Fire & Frost is finished. It's not connected to any of my other series, though — more of a standalone, like Under Her Skin is. Except it's longer. And, uh, more explicit. Because I like that. 🙂