About My TBR: When I was asking for site feedback and asking what readers would like to see, Sheila mentioned that she would like "What am I reading?" updates or recommended books. Since I haven't had much chance to read in the past year or so, my recommendations are pretty thin … but I do keep on buying a ton of books and sticking them on my TBR. So I thought I could make that a regular blog feature, instead: What I'm putting on my TBR, and why.
Just 'R' – No 'TB'
Gunmetal Magic by Ilona Andrews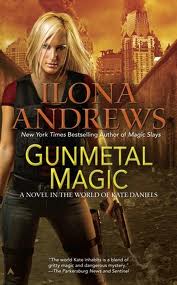 It always feels weird to mention/pimp a friend's book, but honestly, the reason many authors become friends is because we really enjoy each other's work. Ilona Andrews is an auto-buy for me … and I already had a chance to read this one, and it's freaking awesome. I'm sure pretty much everyone who reads this blog is probably already getting this, but this is just a reminder that it's out now. Here's Ilona's site. Buy links are below.
Some people have everything figured out—Andrea Nash is not one of those people.

After being kicked out of the Order of the Knights of Merciful Aid, Andrea's whole existence is in shambles. All she can do is to try to put herself back together, something made easier by working for Cutting Edge, a small investigative firm owned by her best friend Kate Daniels.

When several shapeshifters working for Raphael Medrano—the male alpha of the Clan Bouda and Andrea's former lover—die unexpectedly at a dig site, Andrea is assigned to investigate…and must work with Raphael. As Andrea's search for the killer leads her into the secret underbelly of supernatural Atlanta, she knows that dealing with her feelings for Raphael might have to take a back seat to saving the world…
Dark Places by Gillian Flynn
I've been in a bit of a romance slump lately. This happens to me now and again, and some of it is probably just because I haven't had much time to read the past year or so, and so the choices for romances in my TBR are a little overwhelming, even though there are a billion that I really want to read … but some of it also happens when I'm struggling through a book that I'm writing, and reading a romance becomes more of an exercise in "why did this author do that?" and "does that plot point work?" and "how would I write this?" — so it's difficult to enjoy. So reading outside my genre often helps me shut off the writing brain.
I actually meant to read Gone Girl by this author first, especially after seeing a great review for it over at Dear Author. But when I went over to buy Gone Girl, I read through the descriptions of Flynn's other books, and realized this was more of what I wanted to read right now. I'm only halfway through, and as I mentioned on Goodreads, Libby Day is one of the most unlikable heroines I've ever encountered, and I kind of love her. The book itself is like picking at a scab and examining it, though, and I have a feeling it's going to become a lot worse by the end, so I'm kind of gearing myself up to get there. The writing itself is simply fabulous.
Libby Day was seven when her mother and two sisters were murdered in "The Satan Sacrifice of Kinnakee, Kansas." As her family lay dying, little Libby fled their tiny farmhouse into the freezing January snow. She lost some fingers and toes, but she survived–and famously testified that her fifteen-year-old brother, Ben, was the killer. Twenty-five years later, Ben sits in prison, and troubled Libby lives off the dregs of a trust created by well-wishers who've long forgotten her.

The Kill Club is a macabre secret society obsessed with notorious crimes. When they locate Libby and pump her for details–proof they hope may free Ben–Libby hatches a plan to profit off her tragic history. For a fee, she'll reconnect with the players from that night and report her findings to the club . . . and maybe she'll admit her testimony wasn't so solid after all.

As Libby's search takes her from shabby Missouri strip clubs to abandoned Oklahoma tourist towns, the narrative flashes back to January 2, 1985. The events of that day are relayed through the eyes of Libby's doomed family members–including Ben, a loner whose rage over his shiftless father and their failing farm have driven him into a disturbing friendship with the new girl in town. Piece by piece, the unimaginable truth emerges, and Libby finds herself right back where she started–on the run from a killer.
The Actual TBR, Emphasis on "To Be"
Breathe by Kristen Ashley
I keep hearing so much about this author, and how crackalicious these books are despite some editing issues. So I bought this one, and whenever I come out of my slump, I'll probably give it a whirl. As far as I can tell, this is an ebook-only release.
In order to protect a father he does not respect, good cop Chace Keaton went bad, sacrificing his career and his future. But when the local police department's secrets are revealed and the wife he's forced to marry is murdered, Chace finds himself the town of Carnal's hero. Knowing how deep in the mud he was forced to sink, Chace feels he'll never get clean. The quiet, content future he envisioned of the love a good woman with whom he could build a family was now beyond his reach. The only thing he can do is find his wife's murderer.

But he isn't the only one looking.

While searching for new leads, he runs into Faye Goodknight, the town's quiet, shy, pretty librarian. Chace has long since had his eye on what could possibly be Carnal's last remaining virgin. He has also long since given up hope he could make her his. Faye is pure and clean and Chace refuses to dirty her with his sordid past.

Pure and clean Faye may be, but when the shy librarian is forced to go head to head with the man who she's had a crush on since he hit her hometown, Chace finds Faye is full of surprises. And he doesn't know what to do with her.
Moonglow by Kristen Callihan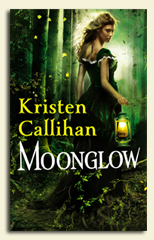 I really enjoyed Callihan's first book in this series, Firelight, so of course I'll be reading the sequel.
Once the seeds of desire are sown . . .

Finally free of her suffocating marriage, widow Daisy Ellis Craigmore is ready to embrace the pleasures of life that have long been denied her. Yet her new-found freedom is short lived. A string of unexplained murders has brought danger to Daisy's door, forcing her to turn to the most unlikely of saviors . . .

Their growing passion knows no bounds . . .

Ian Ranulf, the Marquis of Northrup, has spent lifetimes hiding his primal nature from London society. But now a vicious killer threatens to expose his secrets. Ian must step out of the shadows and protect the beautiful, fearless Daisy, who awakens in him desires he thought long dead. As their quest to unmask the villain draws them closer together, Daisy has no choice but to reveal her own startling secret, and Ian must face the undeniable truth: Losing his heart to Daisy may be the only way to save his soul.