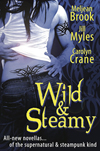 So, I saw today that Amazon marked Wild & Steamy to FREE! Yay! So you can find it at B&N and Smashwords for the same price.
That's not the only Wild & Steamy-related news today. As many of you know, my friend Jill Myles from that anthology is also Jessica Sims, and she debuted her new Midnight Liaisons series with BEAUTY DATES THE BEAST. If you missed my earlier post about this book, simply scroll down for a description and cover.
Today also marks the audiobook releases for Carolyn Crane's Disillusionists series — including the third book in the series, HEAD RUSH. If you're like me and you can't listen to books, this might drive you crazy, because there's still a bit of time until the ebook releases from Samhain. But if you do listen to audiobooks and the ending of DOUBLE CROSS made you want to scream and have the next book now! this is a great way to get a jump on the rest of us (you lucky bastard).
UPCOMING SIGNINGS AND APPEARANCES
For those of you in the Pacific Northwest, I might be in your area soon!
On October 29th, I'll be in Seattle and signing at the Emerald City Writer's Conference Book Fair from 4:30 – 6pm at the Westin in Bellevue, WA. I think I will have copies of HEART OF STEEL.
On November 13th, I'll be in Beaverton, OR and signing at Powell's local Authorfest. If you can't make it that night, however, check out November 18th!
On November 15th, I'll kind of be at the Denver Lady Jane's Salon — I'll be using Skype to answer questions about the Iron Seas series.
On November 18th, I'll be at the Cheeky Pages book club at Beaverton Powell's with author Theresa Meyers, who will be talking about her steampunky-western-paranormal THE HUNTER. I'll have copies of HEART OF STEEL to sign.