THE STEAMPUNK ADVENTURE CONTINUES!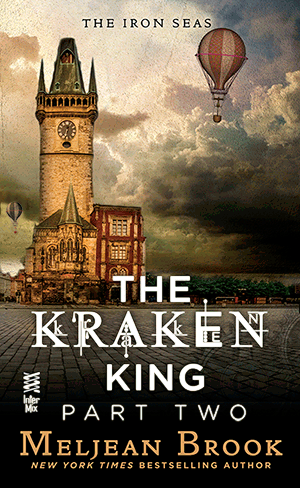 The Kraken King, Part 2 of 8
The Kraken King and the Abominable Worm
As they continue their expedition across Australia, Ariq is determined to stay close to Zenobia and figure out what kind of game she's playing—even as his admiration for the enigmatic woman starts to override his suspicion.
For Zenobia, revealing her identity to a man who once made his living outside of the law is out of the question—even though Ariq's dashing looks and blunt manner are distractingly appealing.
But before anyone's secrets or desires can be exposed, an unexpected attack threatens to destroy them all…
$1.99 | 22K words (~90 pages) 
CLICK HERE FOR A SHORT EXCERPT
JOIN THE DISCUSSION!
Every week, the Vampire Book Club is posting a review and discussion thread for the current installment of The Kraken King! See the review for Part I here, and look for new threads every week at their site.
See reviews of Parts I – III at I Smell Sheep (and don't miss the animated versions of the covers!) I had a great time writing that guest post.
Jen (Twimom227) from That's What I'm Talking About has her review of Part I up, and will be posting a review at her site every Saturday during the serial release (which will end with a poster giveaway!).
Brie from Romance Around the Corner wrote a guest review at Dear Author for Parts I – IV. She doesn't enjoy the serial format, but still "thought the four parts were satisfying and had many elements that made them shine individually, while still working as a cohesive group."
At Fiction Vixen, Angela writes that "I was immediately drawn into the story and was quite taken with the witty, strong Zenobia and the fearless Ariq."
And at Immersed in Books, Ana says that "Great character development and tension as Arriq and Zenobia try to figure each other while trying to keep their own secrets and those of the one they love."