I'm still in my cave, so this isn't an "I'm back!" post, but I wanted to say THANK YOU! to everyone who came to the signing in Bellevue this weekend. I had a really fabulous time seeing familiar readers and authors and meeting new ones, and for everyone who is trying the Iron Seas for the first time: I hope you enjoy the hell out of it. 🙂 I headed straight from the train to my cave, and today I wrote a scene that made me cry, so I hope all of you end up bawling your eyes out.
Until then, I wanted to point to two releases that just came out yesterday, written by my friends from the Wild & Steamy anthology, and which will be related to our upcoming project … Wild & Steamy 2!
First up is Carolyn Crane, who is kick-starting her new Code of Shadows series with MR. REAL.
The woman of his dreams…with the secret agent of his nightmares
Alix Gordon is a woman who doesn't take life too seriously. What's the fun in that? So when she stumbles across occult software that can bring any computer image to life, she conjures up lots of awesome outfits and accessories. And then, on one drunken, horny night, she conjures up Sir Kendall, the sexy TV ad spy . . . who looks exactly like Paul Reinhardt, the hot martial arts teacher who kicked her out of class a few years ago.

Fighter Paul Reinhardt has good reason to hate Sir Kendall, the character he brought to life to land a part in a TV ad; he'd do anything to forget him. A cross country road trip seems just the thing . . . until Paul finds himself inexplicably drawn to Minnesota and is shocked to discover Sir Kendall – in the flesh – with the girl he'd once loved from afar. He barges into Alix and Sir Kendall's love nest, determined to stop the madness – somehow.

But is super spy Sir Kendall transforming into something more dangerous anyone can imagine? And what will Sir Kendall do when Paul and Alix finally give into their mad lust for each other?


And many of you know the second author as Jill Myles, whose sexy shapeshifter story brought both the wild and the steam to our anthology. This release is in her Midnight Liaisons series, which opened last year with BEAUTY DATES THE BEAST, and is one of my favorite books of hers so far, featuring a sweet were-bear hero and a heroine who has been to hell and back … and who definitely deserves her happy ending.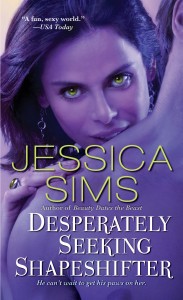 SUPERNATURAL SINGLE SEEKS SEXY SHE-WOLF TO HELP HIM BEAR ALL
Is your new pack driving you a little crazy? Tired of all those wolves in sheep's clothing? Let me be your fierce protector.

Me: A strong, silent type who doesn't care much about the creature comforts.

You: Sweet as honey. No such thing as too big or too small — you're just right.

Let's take things slow. I'll start as your bodyguard, but hopefully soon I'll shift into your mate. You need a man who's born to be wild, and I'm ready to protect you from all the wolf pack can throw in your direction. Don't be afraid of your animal side. Show me yours, and I'll show you mine.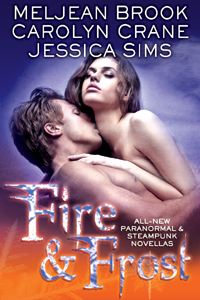 And the folks on Facebook have already seen this, but this is the cover for our upcoming anthology FIRE & FROST (with a cohesive theme of … fire and frost!) and will feature a new story from the Iron Seas series, a Code of Shadows story, and a Midnight Liaisons story. We'll be writing them to stand alone, so even if you aren't familiar with the individual series you'll be able to follow along — but why wait? You can get an early taste above. 🙂
My story will be about the same length as "The Blushing Bounder," and feature the jellyfish balloonist mentioned in RIVETED a steampunk Snow White (kind of). We'll be self-publishing this, and our expected release date is early 2013, give or take a little time depending upon our schedules. Whee!
Now I'll see you on the other side.