Like a lot of writers, I have a 'soundtrack' for certain books that I listen to over the course of writing it. Well, not as I'm writing it — I have a hard time writing to any kind of music with lyrics, and if it's music with lyrics that I know, then forget about it, the writing just isn't happening. (I can get by with classical music, though.) But I do make up a CD to stick in my car so that I've got the feel of the book in my head wherever I go.
Aside: This does not include the times when my daughter is also in the car, especially when she was aged 2-4. Then it was Music for Tots, all the time. I'm lucky my heroes didn't end up with a squicky Dora fetish or something during those years.
A 2nd Aside: I also don't think I could name very many songs recorded after the birth of said tot. She, on the other hand, has managed to learn the lyrics to Britney Spears "Circus" by heart, despite us not having that song on any of our computers…along with "Eye of the Tiger." The second one is my fault.
So I make soundtracks — but when you're reading, do you end up associating certain songs with books that you love?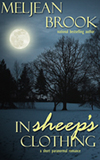 ETA: I forgot to mention — if you're looking for a free read to help get you through to the weekend, I put one up on my site. It's a short (emphasis on SHORT) paranormal romance, In Sheep's Clothing, originally in THE MAMMOTH BOOK OF PARANORMAL ROMANCE.
(The rest of the post is going under the cut, because it's long and full of videos.)
Anyway, soundtracks. For the Guardian series, I have a few songs that just fit every book, and then there are the songs that go with the individual books. The whole series theme is probably The Verve's "Bittersweet Symphony" and so it ends up on every soundtrack.
[YouTube link to official video.]
and Robert Miles's "Fable" is on most of them, too, because the flow of the song feels like the structure of a story to me:
And I first heard it on the trailer for Ever After, so that doesn't hurt.
For DEMON ANGEL, I must have played the Guns 'N Roses cover of "Sympathy for the Devil" a gazillion times (this was the version at the end of Interview with the Vampire):
And DEMON MOON, I ended up with different songs for different characters, along with the full theme songs. Savi was Fiona Apple's "Tymps (The Sick in the Head Song)"
while Colin was a Billy Idol song ("Cradle of Love") and the Clash ("Straight to Hell")
and the whole book was The Beatles' "Yesterday"
DEMON NIGHT, I went through about 5 different variations of the soundtrack, but one song that always stayed was Paula Cole's "Where Have All The Cowboys Gone?"
My FIRST BLOOD novella was really the only one with a soundtrack, and it had three songs. The one that went on repeat was Michael Jackson's "Smooth Criminal" … and, unsurprisingly, my heroine's name was Annie.
DEMON BOUND was pretty much my hero's soundtrack, only because I didn't have any music weird enough for Alice. Plus, Jake was a Guardian who'd died in the late '60s, so his music was already deep in my head (thanks Mom & Dad.) So he was CCR's "Fortunate Son"
and Steppenwolf's "Magic Carpet Ride"
For DEMON FORGED, I had an angry, angry heroine whose song ended up being Fiona Apple's "On the Bound" (actually, a lot of Apple's work fit, but particularly her When The Pawn… album.) Her hero wasn't as angry, though a bit shattered by what she could do to him, and crazy in love with her all the way through. So his was Rufus Wainwright's cover of "Hallelujah."
And the latest, DEMON BLOOD, was all about the heroine. "Hallelujah" ended up on this soundtrack, too (it has become another series theme) along with Dido's "White Flag," Lionel Richie's "Hello," Sarah McLachlan's "Full of Grace" (this ends up on a lot of soundtracks, too, beginning with DEMON ANGEL) and Kate Bush's "This Woman's Work," which always makes me tear up. Sniff sniff.
…longest post ever? Ha. How many of you are heading to iTunes?