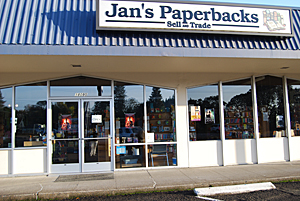 I was really sorry to miss the Emerald City conference & signing this year, but I'll be signing (and giving away) books as part of a big, multi-author event on November 2nd at Jan's Paperbacks. 
Jessa Slade has an awesome write-up regarding the event here, including participating authors and the free books available.
On Saturday, November 2, from 6-9 p.m., I'll be joining a dozen-plus other authors at Jan's Paperbacks in Aloha, Oregon, for a Kobo Reader Party. Come learn more about Kobo reading devices and ebooks, and hang out with some cool Pacific Northwest authors.
There's also a Kobo ereader giveaway, gift baskets, and each author will be giving away a free ebook. So I hope you'll join us!
—
In other news, I've gotten a few questions about THE KRAKEN KING. There's an excerpt from the book in the recent ebook release of HERE THERE BE MONSTERS, and a new release date…kind of. I'll have more information coming soon! Until then, you can get a tiny peek at the cover on the home page. /tease