***The release date for the UK/Aus/NZ edition is on September 13th***
***The audio edition is coming September 17th***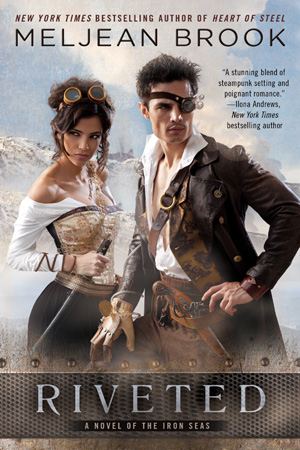 The New York Times bestselling author of The Iron Duke and Heart of Steel returns to the Iron Seas with a riveting new adventure of steamy romance.
A century after a devastating volcanic eruption forced Iceland's inhabitants to abandon its shores, the island has become enshrouded in legend. But the truth behind the legends is mechanical, not magical—and the mystery of the island a matter of life and death for a community of women who once spilled noble blood to secure their freedom.
Five years ago, Annika unwittingly endangered that secret, but her sister Källa took the blame and was exiled. Now Annika serves on an airship, searching for her sister and longing to return home. But that home is threatened when scientific expedition leader David Kentewess comes aboard, looking to expose Annika's secrets. Then disaster strikes, leaving David and Annika stranded on a glacier and pursued by a madman, with their very survival depending on keeping the heat rising between them—and generating lots of steam…

ISBN 978-0425256046
September 4, 2012
$16.00 in print
$9.99 in digital
Reviews
***I've only quoted a line or two from the reviews (usually the first line, unless it's a recap). For the full review, please click on the reviewers name/website. Please feel free to link to your own reviews in the comments!***
"In between the fantastic elements and fabulous action, Brook also weaves in themes of the dangers of prejudice and judgment. And when it comes to heroes, there's no one more thoughtful or noble than David! A rip-roaring and wonderful addition to Brook's amazing Iron Seas series."
—Jill Smith, RT BookReviews
½!

"One of the things I like most about Meljean Brook's steampunk romance series, Iron Seas, is that you never know exactly what you're going to get when you open the cover and start the first page." –Angela, Fiction Vixen
"I fell in love with the character, the storyline, the dialogues that was engaging through the bulk of the book. From the first chapter, I devour every scenes as if it were real and enjoyed it to the last." –Syahira, The Allure is in the Details
"Is no secret that I'm a fan of Meljean Brook. Her characters are compelling, the worlds she creates are complex and reading her books is a wonderful experience. That's the reason why Riveted was one of my most anticipated books of the year. Now that I've read it, I can tell you that the anticipation was deserved." –Brie, Romance Around the Corner
"'For two people who don't fit anywhere, we get along well' sums up the romance between two outsiders, David and Annika. This unusual romance between a the volcanic naturalist David and the airship engineer Annika might be my favorite entry in your Iron Seas series." –Jane Litte, Dear Author
"
Riveted
is the third book in Meljean Brook's Iron Seas series, and easily my favorite of the series, and most definitely one of my favorites reads of the year."
–SpazP, Wicked Little Pixie
"Although Riveted is the third book in the Iron Seas series, it is a completely stand alone story. The only knowledge you need from the prior books is the history of Ms. Brook's world – one where the Horde (Khan's) invaded much of Europe and Africa, infecting the people with nanoagents and ruling for a long time." –Jen, That's What I'm Talking About
"Riveted gets a huge 5 stars, it's one of the best books I've read this year. David and Annika are unforgettable characters and I found myself laughing, cheering and crying for them on their journey." –Jess, Happily Ever After
"While this isn't my favourite story in the Iron Seas series, RIVETED is a solid story that I thoroughly enjoyed. I love Meljean Brook's writing and think this series is a must for steampunk romance fans. Annika and David are unconventional people in a sometimes old-fashioned world and their love story is just so sweet and passionate!" –Jenn, Tynga's Reviews
"Meljean Brooks' new novel, Riveted, is a steampunk romance that is also part of the Iron Seas series. I love so many things about the Iron Seas and this book did not disappoint. It works fine as a stand-alone novel." –CarrieS, Smart Bitches Trashy Books
To lower your expectations a bit, because I'd rather you expect to be disappointed and then be pleasantly surprised rather than going in with high expectations and being disappointed…
Other Quotes from Goodreads
Quoted from the book's page here on Friday night; these might have been updated since then.
"Just a tick off for sort of a slow start but 5 stars from then on…" –Melindeeloo (Meljean's Note: That's what my sister said! Melindeeloo isn't my sister, though, which is kind of too bad, because she has a lot of books and if she were my sister I could steal them.)
"I think I was the only one somewhat disappointed with this one. I think I need to marinate on it before I write a final review. I did really enjoy it, but I wasn't blown away." –Jess the Romanceaholic
"Three stars (review to come)" –Jamie, Addicted2Heroines
"The Iron Duke is still the Best but this is a nice addition to the Iron Seas series." –Irishgirl1247
And there are others! Just click on the book page link to check out readers' comments.

Other Release Dates
UK/Aus/NZ: The Berkley UK edition will be released on September 13th.
Audio: Tantor Audio will be producing the audio version of this book, narrated by Alison Larkin. The release date is September 17th.
Riveted FAQ's
I'm seeing some of the same questions about Riveted show up in my e-mail and around the internet, so I thought I'd (try to) answer them here.
Does it stand alone?
Yes. We haven't met any of these characters before and the story takes place in a never-before-seen part of the Iron Seas world. Readers familiar with the series might recognize references to some names and events, but if you haven't read the other books, it shouldn't feel like you are missing any information.
Do I need to read the other books first?
Nope. All of the information that you need to understand the world and the story is included in the book. That doesn't mean Riveted will answer every question about the world, however — for example, if you want to know about the origin of the nanoagents or more information about the Horde, you're going to find that in Heart of Steel, not this book.
If you want an overview of the world before starting, I suggest checking out the Iron Seas guide, which includes a map and a basic alternate history. You don't need this to read Riveted, but it does provide a simple way to orient yourself in the world and the changes that took place.