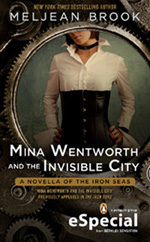 I'm looking for three or four test readers who HAVE NOT read either The Iron Duke or Heart of Steel (but if you've read "Here There Be Monsters," that's okay) to read the two epilogue novellas, "Mina Wentworth and the Invisible City" and "Tethered" — then report back on whether the stories work as standalones or for readers new to the series.
"Mina Wentworth and the Invisible City" is 30K words, about 100 pages; "Tethered" is 50K words, about 160 pages.
ETA: I just realized that I should add that both novellas have explicit sexual scenes and will totally spoil the novels they follow. So, I'm adding the warning: SPOILERS AND SEXY TIMES ABOUND!
Both novellas are written as epilogues, but I tried to make them stand alone as much as possible … but I have no idea how well it works, and I think it's impossible for anyone to know unless they read the novellas without having read the novels first. I expect that I'll be asked this question, however (or that readers will ask other readers that question), and I'd like to have a post from a couple of readers new to the series that I can point to.
I would send you the novellas in epub, pdf, or mobi format; I would just need a couple of sentences as a response, which I would then put together as a post with the other readers' responses. If it doesn't stand alone, in your opinion, that's fine! I'm looking for honest reactions, and if you are totally confused or don't get it at all, that works. I'm not really asking for a review (though if that's what you do, that's fine, too) — just whether you were completely lost or if you could get into the story without much trouble.
Unfortunately, this isn't a paying gig. But after you read the novellas I will be happy to send you print copies of all of the books in the Iron Seas series: Burning Up, The Iron Duke, Heart of Steel.
So, if you're interested, respond in the comments. I'll keep this post open for about 12 hours, then use random.org to pick names.