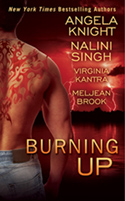 Ana at the Book Smugglers wrote an early review of my novella, Here There Be Monsters, for Steampunk Week II.
And last night at around 3 a.m., I sent her a guest post about steampunk romance that's supposed to go up on Saturday (if it's Saturday, click here!) Last night was kind of hazy: I remember a lot of caffeine, and cackling maniacally after taxes and a cruddy writing day, so all bets are off for that post. (And there will be a giveaway with it — not one of my books, but it's steampunk.)
Today (Friday!) I've got a post up at Odd Shots, talking about book signings, with pictures from different signings, and a book to give away that I bought at a signing: Patricia Briggs's SILVER BORNE. Drop on by, and comment on my ever-changing hair. Or, you know, just talk about whether or not you'd go to a signing.
I'm getting back to writing. Another 3 a.m. and a caffeine IV is calling my name.