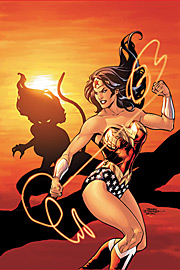 So, the new release date is supposedly November 22. I really, really hope so.
(Silently praying that, someday, this book will be monthly again and ON TIME! I think this may be especially good considering that something important might be coming up for Wonder Woman in the future, something like, I dunno… A FREAKING MOVIE DIRECTED BY JOSS WHEDON!)
*rant banghead rolleyes stabself screamcurse*
Ahem.
Yes, DC. It might behoooooooooove you to build up this comic book as something worth investing time and money in. Not a source of frustration, as the date is pushed back again and the release goes bi-monthly and then not even bi-monthly but LATE YET AGAIN!!!!!!!!!!oneelevenoneone
Okay. I feel all better now.