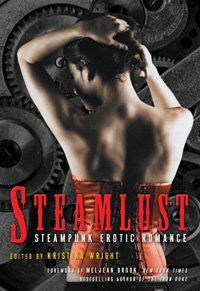 Angels of Darkness isn't the only release I have on October 4th — I've also written the foreword to STEAMLUST, an anthology of erotic steampunk romance edited by Kristina Wright.
STEAMLUST
Steampunk Erotic Romance
To avoid confusion, please note:
I am writing the foreword for this erotic steampunk collection. It does not include an Iron Seas tale, but awesome and original stories by many talented authors:
Sylvia Day
,
Saskia Walker
,
Sacchi Green
,
Christine d'Abo
,
Charlotte Stein
,
Elizabeth Coldwell
,
Vida Bailey
,
Anna Meadows
,
Lisabet Sarai
,
Andrea Dale
,
Lynn Townsend
,
Mary Borsellino
,
Nikki Magennis
, and
Anya Richards
(whose story is new to me, too! Whee! an awesome treat for me. I didn't mention this one in the foreword, but it's definitely not an intentional slight! The story is fantastic.)
Okay, so — here's the official description:

Steamlust is romantic erotica that reflects the excitement, fantasy and rebellion of steampunk. Not sure what steampunk is? Think Victorian elegance and aesthetics meets futuristic invention and exploration. The genre of steampunk itself has transcended the Victorian (or Edwardian) eras — in Kristina Wright's inventive anthology, it can be any time period, real or imagined, that blends elements of science, history, fantasy and technology. Until Steamlust, the genre had been missing romantic relationships and erotic encounters. Steampunk erotic romance is shiny brass and crushed velvet; mechanical inventions and romantic conventions; sexual fantasy and kinky fetish. It's steam powered sexy romance!

Editrix extraordinaire Kristina Wright creates a lush and fantastical world of women-centered stories and romantic scenarios, first for steampunk fiction. Fetishizing the wardrobe, language, fantasy and rituals of steampunk, Steamlust includes alternate histories, second worlds, time travel and contemporary settings.
$14.95 Cleis Press
ISBN 978-0425243459 | October 4th, 2011
Publishers Weekly says: Wright's anthology of sizzling steampunk romance is a sensual, passionate, and humorous collection of alternate histories, fantastical worlds, and time travel romps. The heroines are strong-willed, intelligent, technologically savvy, and elegant in their fashionable corsets. It has a fun book trailer, too:
Today I received two copies of the anthology, and I'm giving away the extra one. All you have to do is comment before Sunday night to enter. If you are on Goodreads, please come to my blog!
The small print: Comment by 11:59:59 PM Pacific time on 10/02/2011 for your chance to win. One winner will be selected randomly using random.org, and their name posted on this blog 10/03/2011. Winner must provide Meljean with their mailing address by October 15, 2011 or the prize will be forfeit. Only one entry per ISP address. The contest is open to international readers. No purchase necessary to enter. A review of the book is always deeply appreciated. Odds of winning depend on number of entries received. Void where prohibited.