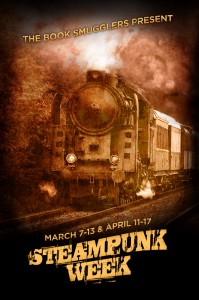 The Book Smugglers are having a steampunk week over at their blog. I've gotten a ton of questions about What Steampunk Is, and this might be a great place to start for those of you still wondering: The Introduction (and Primer) ETA: And this, Bloggers Talk Steampunk.
And for a look at how I am handling the question, I've put up an (unedited) excerpt for "Here There Be Monsters," from the BURNING UP anthology out in August. THE IRON DUKE is up for pre-order as well at Amazon (it's a trade sized novel, which is why it's $15 — and I don't know yet if it will be re-issued in mass-market. I suspect that is something the pub decides after they see how well (or not) the book does.) As soon as I see it for pre-order at other locations, I'll add those links in, as well.
For those of you wondering about how The Iron Seas fits together as a series — all of the novels are lightly connected with some recurring characters, but each romance and plot stands alone.