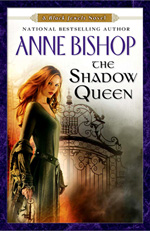 First — I just noticed that Anne Bishop has the cover up for THE SHADOW QUEEN. w00t! There are no words for how much I'm looking forward to this book. There's already a sequel planned, so I'm hoping that it will have the same kind of sweeping, epic-ish story that the original trilogy did. But even if it's only the scope of THE INVISIBLE RING, I'll be happy.
One of the problems that I have with the BJT is that I loved it so much.  It's very difficult for Bishop's work to live up to my hopes (but I think this is a danger that every author runs — there will be the one book that is just IT, and you hope to recapture that feeling with every book. But I don't know if any author can hit it out of the ballpark every single time. Now, there are authors that are consistently good or even fantastic, and they always deliver a solid read even if it doesn't get you right in the gut — and Bishop is one of those authors for me. I'm never sorry I read her work, even if not all of it has that special thing that made the BJT a yearly re-read.)
Case in point: TANGLED WEBS. Here's the description:
The invitation was signed Jaenelle Angelline, she who had been both Witch and Queen.

It summons her family to an entertainment she has specially prepared. Surreal SaDiablo, the former courtesan and assassin, is the first to arrive. But as she and her escort enter the house, the door disappears. Surreal finds herself trapped in a nightmare created by the tangled webs of Black Widow witches…a nightmare where the monsters are all too real, and if she uses Craft to defend herself, she risks being sealed in the house forever.

But Jaenelle did not send the invitation.

Now, Jaenelle and her family must rescue Surreal and the others inside without becoming trapped themselves—and they also must discover who created such an evil place, and why. Because there is one thing they all know about this house: no matter who planned it as a way to kill members of the SaDiablo family, only one of the Blood could have created the trap…
Like the Jaenelle and Daemon novella in DREAMS MADE FLESH, this book takes place after the events of the BJT. And like DREAMS MADE FLESH, I enjoyed Lucivar's portion of the story the best.
The problem with these two stories is — as many have noted before me — that after the huge conflict in the BJT and villains like Hekatah and Dorothea, the antagonists aren't as … well, don't quite measure up. So I do think it was a good idea  to put Surreal and her Warlord in physical danger, rather than trapping the big guns inside, and to make the challenges that Daemon and Lucivar face more internal than physical.
Despite the lack of huge conflict, I enjoyed this quite a bit. I would have liked just revisiting the characters, but Bishop managed to include them and to expand her world a bit. Or, perhaps, deepen it. For example, showing the role of the landens vs. the Blood, and Saetan's concern about Jaenelle's haunted house.  Daemon's worry that he's lost his edge. Of the original three primary male characters, though, I felt that Lucivar was filled out the most, and I especially liked how the different manner in which he saw the world — and the uncertainty that brings him early on in the story — plays into the haunted house plot.
And I really enjoy the family/friendship dynamics in this series. These characters are family, and you can feel it. So this book ended up being a nice return to the BJT world, even if it wasn't as an incredible one. Also, it included one of my favorite lines of the year so far, when Lucivar walks into the haunted house. There was some writer-envy and hate going on from me, because it was one of those, "Oh, damn! I wish I'd written that!" moments.
So overall, I liked it — I don't think I'd recommend it to someone who wasn't familiar with the BJT world, though. There is a plot and a fun storyline, but I don't know if characters like Daemon or Jaenelle would seem all tell and not-much-show, unless a reader knew what they were capable of doing.
BELLADONNA wasn't as successful for me. I'm always amazed by Bishop's world-building, but in this book, I never felt I got a tangible grasp on the world (heh, and the world is called Ephemera.) And because I couldn't visualize it as well as I did the BJT, I struggled in a few places.
This is the second book in the duology (the first book is SEBASTIAN, which I talked about way, way back when). And it's not that it isn't a solid story; it is. But I was confused more than once (and I don't think I forgot that much about SEBASTIAN) and I didn't feel the romantic tension between the leads. The big thing, though, was that in this book, the family scenes kind of made me grit my teeth. Maybe it's because I don't know these characters as well? I'm not sure (and this isn't just BELLADONNA; I also have problems in, say, an NR book with family scenes if there are characters from previous books that I don't know. But I don't with Robb, so I really, really think it is my familiarity that's an issue when it comes to family dynamics in books. An 'it's not you it's me' thing.)
And I liked how the plot played out, the sacrifice and the resolution; but, maybe because of my confusion (hee hee, I know! I know! Pot meet kettle) it felt like it took extra long to get there. But still, Bishop is a fantastic writer and I don't regret reading it at all — but I would not recommend starting here (or a two year break between the books). You would want to read SEBASTIAN first (and it is definitely fantasy, though, and not nearly as dark as the BJT — there is a romantic thread (and it's stronger in the first book) but could not be labeled a paranormal/fantasy romance.)
In Sebastian, national bestselling and award-winning author Anne Bishop introduced a stunning new realm, a world of strange and magical landscapes connected only by bridges – bridges that may transport you where you truly belong, rather than where you wished to go. But only the magic of the Landscapers can protect this world from the entity determined to enshroud it in darkness…

One by one, the landscapes of Ephemera are falling into shadow. The Eater of the World is spreading its influence, tainting people's souls with doubts and fears, and feasting on their dark emotions. With each victory, the Eater comes closer to extinguishing Ephemera's Light.

Only Glorianna Belladonna possesses the ability to thwart the Eater's plans. But she has been branded a rogue, her talents and vast power feared and misunderstood. Determined to protect the lands under her care, Glorianna will stand alone against the Eater if she must – regardless of the cost to her body and soul.

But she is not alone. In dreams, a call has traveled throughout Ephemera: "Heart's hope lies within Belladonna." That call has traveled far from the landscapes Glorianna claims and reached Michael, a man with mysterious powers of his own. It awakens a fierce hunger within him to find the dark-haired sorceress he's dreamt of, over and over again – a beautiful woman named Belladonna.

As Michael and Glorianna's hearts call out to each other across the Landscapes, together they may offer Ephemera the very hope it needs…