Did you survive Part II?
The abominable worm has struck! And as xidtrebor says:
@Meljean It's not the size of the worm, it's how it wiggles. #KrakenKingpart2

— Robert Dix (@xidtrebor) April 23, 2014
Reviews and Links!
I'm making an effort to link to as many reviews on blogs/sites that I can — and of course to the Goodreads page, where many of the reviews are compiled (and you get to see the good and bad!) If you are on Goodreads and would like me to link specifically to your review, please let me know! I'm trying to find a good balance between being "nosy author looking over everyone's shoulder" and "I think readers want to know whether they should try the serial out," so most of these links come from blogs/tweets that are already promoting the reviews, because I feel that's an invitation to readers, and I'm just trying to pass that on.
I've started a discussion thread on my site. I'll keep it as a sticky at the top of the blog until Part 8 has been released, so that it's easier to find. I'll check in now and again to see if anyone has questions (but I won't give any spoilers for upcoming episodes, sorry!) But if you're wondering about the world, the story format, or anything else, I'm game.
There are also a couple of sites/blogs that are hosting a weekly review of the serial, and I'm sure they'd love your comments! (They are great places to have a discussion without me poking my nose in.) The first is Vampire Book Club, another is That's What I'm Talking About, Talk Supe is making it part of her Steampunk Sundays, and Rosario is also reviewing the serial weekly.
If you are also reviewing the serial weekly and would like a link to your discussions/reviews, please let me know!
Carol at Bitten by Books writes:
Brook does an excellent job of blending elements in this novella–absorbing alternate history, fun steampunk aspects, intriguing, well-defined characters, cool action scenes, and two equally-interesting plot threads. The two main characters, Zenobia and Ariq, do not appear as caricatures despite the thread of humor running throughout the narrative.
Stephanie G. at Paranormal Haven says:
Part of me wants them to jump into bed because they're both so lonely but there are secrets and misunderstandings that keep getting in the way. It's frustrating watching them get so close to only pull away because of a misunderstanding or they think secrets are being kept.  Both are fascinating characters that enjoy the qualities in one another others find unladylike or brash but until they figure out how to get on the same wavelength, I'm just going to have to live with the frustration. (Meljean's note: Not for long! 😀 )
ETA: Cinzia's review of Part 1 at ayliss dreamland (with translation at the link!):
Incredibilmente avvincente da subito, questa prima parte del libro introduce in modo esemplare i due protagonisti della storia, coinvolgendoli in episodi ricchi di azione e colpi di scena.
On Twitter, awesome author Alyssa Cole said:
I'd heard the phrase "heart in throat" but never experienced it until reading pt II of @meljean's The Kraken King this morn. It's so good!

— Alyssa Cole (@AlyssaColeLit) April 24, 2014

Rika Ashton said:
Rave – er, review for THE KRAKEN KING (parts 1 & 2) by @Meljean Brook was posted earlier this month @ http://t.co/uTOIZGbOwk

— Rika Ashton (@RikaAshton) April 24, 2014

And Mary wondered:
To Serial or Not To Serial: THE KRAKEN KING Parts I-VI by Meljean Brook http://t.co/kYyX3Z9bAV

— Mary (@marybrebner) April 25, 2014

Fiction Vixen has their review up, too!
Review: The Kraken King Part II: The Kraken King and the Abominable Worm by Meljean Brook – http://t.co/VAp7BHfz4x

— Fiction Vixen Blog (@FictionVixen) April 21, 2014

And why haven't I been embedding tweets all along? Oh my gosh, this is so much easier.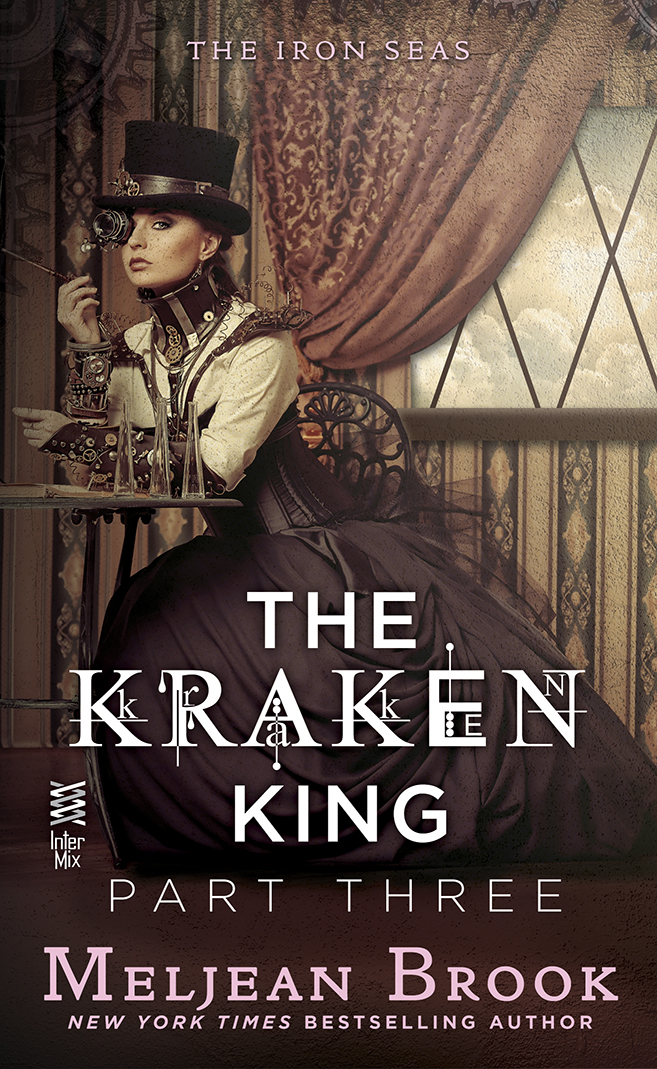 Excerpt from Part III – The Kraken King and the Fox's Den
In the walker, approaching the smugglers' dens…
It was irritating, this hold he had over her senses—and with no effort on his part. Even when she didn't look, she'd noticed his every movement. Not a minute had passed that she hadn't wanted to talk to him, or wondered what he was thinking. Not a mile had gone by that she hadn't thought of sliding into his lap and pressing her mouth to his, and of daring him to dismiss her after she'd kissed him.
She feared that he would, anyway.
And she called herself an idiot when her heart lifted, simply because he immediately glanced at her in return—as if none of her movements had gone unnoticed, either, and he was just as aware of her.
An idiot. But the tightness in her chest that had been a constant companion since the morning eased a little.
He glanced at her again. Probably because she was still looking at him.
Zenobia lifted her chin. "When we are ready to continue on, I hope that you might recommend to us a trustworthy airship."
"I'll make the arrangements."
And there was the abruptness again. A short nod accompanied his reply, then he looked away from her—even though nothing lay ahead of the walker but the smugglers' dens, and those still miles away.
She faced forward again, too, wishing for her notebook. It would have been so much more sensible to work than to sit here with every cell in her body attuned toward his.
Not just her body. Her brain, too.
And that was simply unacceptable.
So blast it. None of this mattered anymore. She pulled out the notebook tucked inside her tunic and began to sketch the scene ahead.
A few straight lines established the city's shape. "Why the perimeter walls?"
And blast him, too, because even though her fingers were busy she was aware of how he glanced at her notebook, then of the lingering look he gave her profile before answering. "It establishes the boundary of the area they were given to settle."
"By the local tribe?"
"Yes."
The Nyungar had been generous. The city was at least four or five times larger in area than Port Fallow. "But why walls? Port Fallow and the Ivory Market use them to keep zombies out of the city. But there are no zombies in Australia. And unless boilerworms can fly, that wall is too high to have been meant to stop them. So why not simply mark the boundary as you do in your town? Unless it's to keep people from moving between dens."
"It is," the governor said.
And it didn't sound as if he approved. His voice had hardened, and his loose grip on the steering lever tightened. She continued sketching. "Which den will we be staying in?"
Hopefully not Lord Duval's den. Zenobia didn't know who any of the other den lords were, but she knew all of Archimedes' smuggling business had come through Duval's contacts. That had been more than a decade ago, and there was little chance that she would be recognized as the sister to Wolfram Gunther-Baptiste—but if someone did recognize her, it would most likely be some former associate in Duval's district.
"A man I trust keeps an inn in the twins' den."
Not Duval's. Any relief Zenobia might have felt was erased by the sound of Mara's sharply indrawn breath behind her.
Alarm filled the mercenary's voice. "The twins?"
The governor glanced back. "Are any of the other dens safer?"
A long second passed before Mara shook her head.
All of them equally dangerous. But he must have chosen that den for a reason. Zenobia looked up from her sketch. "Why there?"
"The twins control most of the Nipponese trade. I want to know where those flyers came from—and who bought them."
"You expect them to simply tell you?"
"Yes."
She stared at him. Zenobia didn't know anything about the twins, but the mere mention had made Mara gasp. Yet he intended to demand information from them—and sounded certain of their compliance.
She didn't know what to think of that. Thanks to Archimedes' letters, she'd recognized the Kraken King from the moment she'd seen the tattoo on his back—one of the most powerful and feared commanders of the Horde rebellion. But that was who he'd been. He'd left the rebellion and now he was just the governor of a small town on the western Australian coast.
Yet he could still make demands of a den lord.
Unsettled, she looked ahead again. "Which den is theirs?"
"The one farthest south."
The one that she had the most difficulty seeing from this perspective. Three were readily visible, but the southernmost den wasn't.
But that wasn't right. There should be two more. "Where is the fifth den?"
"In the water. It's an island."
"And known as the Rat Den," Mara said.
Now didn't that sound like a lovely place to live? "Do they all have names?"
Mara nodded. "The Wolf Den in the north—that's Lord Duval's. Lord and Lady Yudaev control the Bear Den, unless their son has already killed them and taken their place. Who rules over the Tiger Den now?"
"The Kwan clan," the governor said.
"And the twins' den?" Zenobia asked, though it probably wouldn't be hard to guess. "No, do not tell me. Is it the Lion's Den?"
His firm mouth curved with amusement too brief for her liking. "It's the Fox Den."
Oh. Well, then. That sounded like the proper place for Zenobia to stay.
With a smile, she started sketching again.