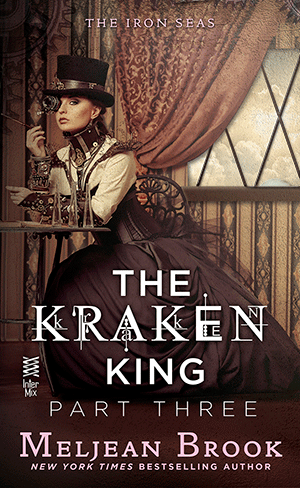 It's Tuesday, and you know what that means — the newest installment of THE KRAKEN KING is here! They've survived the marauders' attack, they've survived a boilerworm…but can they survive the smugglers' dens?
The Kraken King and the Fox's Den
Warning! This description might contain
spoilers for previous installments!
After a harrowing escape, Zenobia, Ariq, and their company take refuge in a gold rush town—but their temporary port is just a respite before traveling to the dangerous smugglers' dens. Ariq is determined to uncover the men responsible for the threat to Krakentown, even if it means confronting the notorious den lords.
But when he discovers evidence in Zenobia's letters connecting her to the Horde rebellion, he realizes that the threat is far greater than he had suspected. His loyalties torn, Ariq must distance himself from the fascinating woman he desperately wants to hold closer.
Stunned and hurt by Ariq's inexplicable coldness, Zenobia prepares to leave the dens and continue her journey to the Red City. But in the smugglers' dens, danger lurks around every corner, and all of her protection is gone…