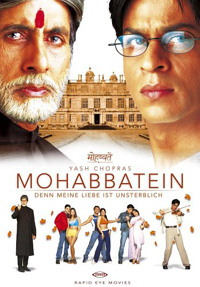 …when I will sit down at the in-laws to see (part) of a Bollywood film, and it will not star Shahrukh Khan.
*For those interested, this is Mohabbatein (which, translated, means "love stories" (I think)) . Yes, I couldn't help but laugh at the musical hallelujahs that sounded when we were introduced to each of the six lovers, but the part I saw (it's three and a half hours long, and I wasn't at my in-laws that amount of time (thank god)) was pretty enjoyable. A good intro to Bollywood, if you were interested at all in watching the movies.
This one is kind of like Dead Poets' Society. Um, kind of. Very superficially, only in the sense that a suicide is involved, and an unorthodox teacher comes into a private, strict educational institution and teaches everyone the meaning of love and life. And superficially, because there is no homoerotic/sexual subtext. And instead of covering Ethan Hawke's eyes and making him compose a poem, they all dance and sing.