All dates subject to change. To be notified about upcoming releases, sign up for my postcard mailing list or e-mail newsletter.
MELJEAN, ARE YOU ALIVE?
I am! Not that I could update this page and say differently if I wasn't. So maybe take that answer with a grain of salt and check my Twitter or Facebook account, instead. 
But I had a bad bad bad bad burnout following THE KRAKEN KING. I was still able to write, and have been writing all this time, but getting back into steampunk and the book I've wanted to write forever—the Blacksmith's—wasn't happening. And…it still isn't. 
So if you're here looking for an update on the Blacksmith, I don't have one. And I probably won't have one for a while. I've put it aside for the time being, because my choice is to either force a book that isn't coming (and that I've hated every time I've put words to page, even though I love the story in my head) or just wait until it does. I'd rather do the latter, even though it sucks. For some reason, the steampunk is stuck. I have my theories about why, and I'd be happy to discuss them in terms of being a writer or just in general, but that's not what this page is for. 
So what will be coming in the future from me? Right now, the barbarians. You might remember the story I wrote as Milla Vane in the NIGHT SHIFT anthology, called "The Beast of Blackmoor." Well, I've got a whole world built in my head and about five stories knocking around my skull, so I'm slowly working on those. The first one, the story that I've called VENGEANCE for a long time (but will probably have another title) is nearing completion, and my publisher will be publishing it in place of the Blacksmith's story (I'm pretty sure.) That might be in serial form or as a novel, I'm also not sure how that will turn out yet. But I expect to turn that in by June of 2018, and depending on what route they decide to take (serial or a full novel) that might be out within a few months afterward or take up to a year. So I don't have a firm date yet, and it could be 2018 or 2019 before we see that, depending on my publisher. I don't even know if we'll use Meljean or Milla Vane as the author name yet. 
So that's what I have! I'm excited to be working in a rich world again, and I love this story. I also still love the Blacksmith's story, and a part of me is hoping that now, with the "OMG THIS CONTRACT IS DUE AND YOU NEED TO WRITE THIS RIGHT NOW!" feeling gone, it'll click between my brain and my words. Because the second it does, I'll write it. I want to write it. But I don't want to write crap, which is what it is now. 



Self-Published Works
Please note: Though I will do my best to release all of my self-pubbed works in a timely manner, I'm really terrible at estimating my completion times. Unlike traditionally published works, these do not have specific release dates. If you would like to be notified the day of their release, either sign up for my newsletter OR enter your e-mail in the release notification form below the books.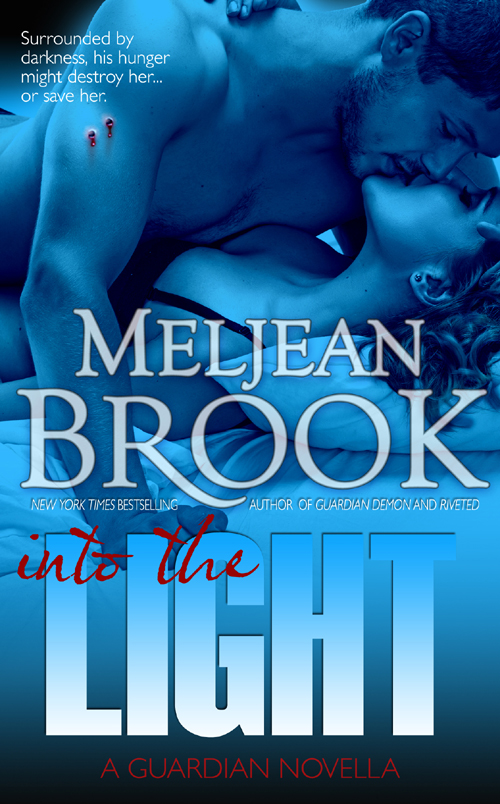 INTO THE LIGHT
A GUARDIAN NOVELLA
A new Guardian novella, Into the Light. This will be Katherine Blake's story, and should (mostly) stand alone, though it takes place during the events from Guardian Demon.