The Love Story of a Girl and a Sucker
Those of you on Facebook have probably seen bits of my Endless Vacuum War. I've gone through three vacuums in two years, and each one clogged/burned out the motor/died in some horrible way. On Facebook, I lamented on their crappiness often. About two weeks ago, I sucked the head of a feather duster into the hose (it's best not to ask) and created my own housekeeping porno by shoving a broom handle through the vacuum's tube for two hours, and then (in a totally unrelated incident) blew up the motor right before the in-laws came for dinner, so our house was filled with the lovely scent of burning oil and dust.
So I took the advice of everyone on Facebook, closed my eyes to the price (though my tears still leaked through) and bought a Dyson. I'm hoping that it will last at least five years and end up paying for itself, because in five years I'd have probably gone through six or more cheaper vacuums. Still, ouch. Thank goodness for a discount and free shipping — and it finally came two days ago. Even though I was sick with a head cold, I put that baby together (okay, I just snapped a few pieces into place) and vacuumed the ever-loving hell out of my carpets.
I will only say this: Obviously, the vacuuming was overdue because I hadn't done any since my last one blew up almost two weeks ago. We don't wear shoes or anything inside the house, though, and although we have two cats, we don't really have a problem with cat hair. Still, this vacuum sucked up enough dirt to fill a canister…and then another. And then I used it again, and it got more up. I'm pretty sure now that my old vacuum was just dicking around on me.
Anyway, I haven't made out with it yet, but if a future hero shows up in my books with the name "Dyson," you know things have gotten pretty hot and heavy.
The End…?
Also, I cut my hair off last year, but my author photos were showing me with long hair and 27 years old. So I decided that I would update them. Of course, with my luck, I had my head cold on the day of the scheduled shoot — thank god for Photoshop to get rid of the red and puffy.
I contacted Doug Crouch for the photos after checking out his website, and he ended up being totally awesome. He prefers to shoot on location, but since my apartment isn't exactly awesome swanky and my desk is shoved up beside my bed (and my carpets were unvacuumed) we went to Portland's White House B&B instead, because they are super-awesome fantastic and the house is gorgeous. So this is what I look like now! (Except, you know, less puffy and sniffly and I wore something besides my pajamas.)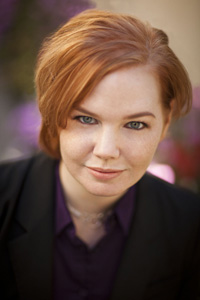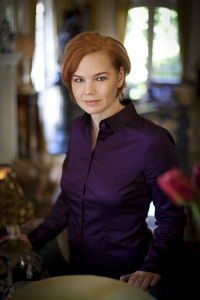 Which is pretty much exactly the same, but now with more wrinkles (also smoothed out, because Doug Crouch is awesome talented that way.)
And finally! I posted this snippet from Heart of Steel during the Goodreads chat, and realized that I should post it here, too, for everyone who wasn't able to participate in the chat. It came about because Telma asked:
"Yasmeen is very mysterious in HERE THERE BE MONSTERS and fun in THE IRON DUKE. What more can you give us about HEART OF STEEL until November 1st? (oh time move faster!)"
So I posted this:
***
Archimedes fought the sinking sensation in his gut. "How many men have ever managed to make a fool of you?"
She offered her hard-edged smile and glanced down at the bracelet. "The better question is: How many are still alive?"
"One," he guessed.
"And if you'd like to keep it that way, Mr. Fox, make certain not to do it again." She smoothed her woolen cuff down her wrist, hiding the bracelet. "If you even suggest to my crew that you've threatened your way aboard my lady, I'll rip out your spine."
He could see she meant it. God. "That's unbearably arousing."
She swept a considering look the length of his body, pausing once. Her gaze lifted to his again. "Your purse is bulging, Mr. Fox. Tuck it away before you board."
***
Then added: So I guess you could say that Yasmeen is fun, sexy, violent, a bit ruthless, still a little mysterious, and — to Archimedes — somewhat terrifying.
Everything a heroine should be, of course 😀