Or, however long it takes you to read it. Last year, Richelle Mead released SUCCUBUS BLUES (excerpt here), which was fantastic with a capital F. Part chick lit, part urban fantasy, and all a really, really great story. So I preordered a copy of the sequel from Amazon … and then Richelle was a sweetheart (with one of the most entertaining and funny blogs I've read) and offered me a copy, too.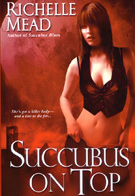 So, I've got an extra copy of SUCCUBUS ON TOP to give away. I haven't had a chance to read it yet myself, but this is one of those books that, after reading the first, you don't feel any hesitation in giving or recommending to someone.
Here's the description:
Georgina Kincaid's job sucks. Literally.

Love hurts, and no one knows it better than Georgina Kincaid. If she so much as kisses her new boyfriend, she'll drain his life force. Georgina is a succubus—a demon who draws her power from other men's pleasure. Admittedly, the shapeshifting and immortality perks are terrific, and yes, Georgina did choose to join the ranks of hell centuries ago. But it seems completely unfair that a she-demon whose purpose is seduction can't get hot and heavy with the one mortal who knows and accepts her for who she is.

It's not just her personal life that's in chaos. Doug, Georgina's co-worker at a local bookstore, has been exhibiting bizarre behavior, and Georgina suspects that something far more demonic than double espressos is at work. She could use help finding out, but Bastien, an irresistibly charming incubus and her best immortal friend, is preoccupied in the suburbs with corrupting an ultra-conservative talk radio star—and giving Georgina some highly distracting come-hither vibes. Georgina is going to have to work solo on this one—and fast because soon, Doug's life won't be the only one on the line…
Interested?
Here's what you have to do to win it: read the excerpt of SUCCUBUS ON TOP, and send an e-mail to meljean @ meljeanbrook dot com (no spaces) with SUCCUBUS CONTEST in the subject line, and tell me what kind of creature arrives while Georgina's playing cards with the guys. I'll keep the contest open until January 20th, at midnight.
I've turned off the comments so that no one puts the answer here — if you have any questions, use the contact form or the e-mail address above.