*WIROMSV = What I read on my summer vacation
(First, though — It's Patrice's day at Odd Shots! Do you like Ghost Hunters? You've got to read this.)
When I went on my blogging hiatus, one of the reasons was that I simply wasn't reading enough to talk about any books. Not that I ever review in-depth anyway (which is a good thing, because I sucketh at the reviewing) but, honestly, I think we're all here for the books, right? We're readers, we're authors, and I can only put up so many posts with contest filler without starting to hate my own blog.
If I'm bored, I assume that you're bored, and I can't have that.
So, anyway, due to time constraints I'm still not reading a lot, but yay! I've got a backlog of books to mention, and I'll pull out my summer reading list now and then. I'm going to say upfront that I'm not going to be talking about books I didn't enjoy. I'm basically like the person who only posts 5- and 4-star reviews at Amazon, except that instead of liking every book, I only talk about the ones that I do. (Not that these have to be all smiles and puppies. If you didn't like the book, feel free to say so in the comments. I can totally withstand being told that I have lousy taste. Hell, I tell myself that every time I look in the mirror and see what I've chosen to wear that day.)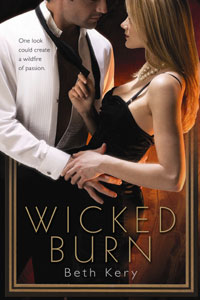 So, WICKED BURN by Beth Kery.
Where I first heard about it: I think it was this review at Dear Author.
Quick Description: An erotic, contemporary romance that remains tightly focused on the characters.
The Back Cover:
He wanted all of her—and did she ever let him have it…

Vic Savian knows what he wants when he sees it. And what he wants is his sexy neighbor, Niall Chandler. When he finds her in the hallway of their building being harassed by an aggressive suitor, Vic steps in—and finds himself greatly rewarded…

Sleeping with her gorgeous neighbor—when she didn't even know his last name—was the craziest thing Niall's ever done. Now, she can't seem to get enough of Vic—or the uninhibited passion he stirs in her. Suddenly, with his help, she's opening to sensual pleasures she's never known before. But when Niall's past comes back to haunt her, will she and Vic let themselves venture beyond the bedroom and explore the possibility of the love that's in their hearts?
Briefly: The cover copy focuses on the bedroom, and I think that's fair. Their relationship starts in bed, and those encounters elicit a strong emotional response from both characters (although Niall's response is more frightening to her, pushes at her emotional boundaries, and eventually transformative — and so the more interesting to me.) That combination of physical hotness and a real emotional engagement means that I never get the Tab A, Slot B feeling while I'm reading. These encounters are important to the story and to the romance.
Niall's past does come back to haunt her. At this point, the book turns away from the bedroom and focuses on making this relationship work (not that they never have sex again, but that the sex feels higher-risk — it's less about the sex than "Oh, god, I can't lose him.") And by the end, I was convinced by the HEA, and satisfied with how the characters got there.
Did anything not work for me? Not really. Maybe Niall's name at first, because I had to remind myself that it was the heroine. But that's me reaching for something; I'm four months past reading this book, and my lingering impression is that it was a solid, character-driven read.
Who will like this book? This is definitely on the hotter side, so if you like your romance tepid, it's probably not for you. Vic runs alpha, with an earthiness to his character that was kind of unexpected, considering his playwright occupation (yes, I was totally expecting a smooth sophisticate; I'm guilty of stereotyping characters, too). If I recall correctly, Niall struck some readers as a little too passive, but I thought that, considering her Big Secret, it made sense that she felt that her hands were tied and that she didn't have much power to act. But if you are looking for a contemporary that is character- and emotion-oriented, without suspense or much of anything else to distract them from their angst and their sexxin', this might be a good bet for you.