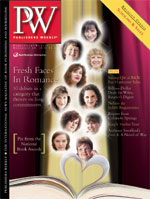 Woot! That little round face at the bottom left is ME! This is for the upcoming (November 20) issue of Publisher's Weekly, which focuses on the romance genre (the article is apparently "Fresh Faces in Romance"). I'm at the bottom of a pile of hot mama debut romance authors, and I'm loving it!
In fact, Colleen Gleason is RIGHT ON TOP OF ME! Naughty, naughty Colleen.
Who else is there? The PW site only had this little picture of the cover, so I couldn't make out the others in the tiny little circles. I *think* Jacquelyn Frank is right next to me. Anyone recognize anyone else?