I lurk at a few places, and one of my favorites lately has been the Wonder Woman forum at CBR. Every now and then, I'll see someone from this romancey neck of the woods there. This happened again recently, but in a reverse kind of way — I was looking through the ads in RT magazine, and noticed a book, TOUCH OF DANGER by Carol A. Strickland, an author whose name seemed really, really familiar.
Then it struck me: CarolStrick at the WW boards, and the DC boards before that! And also a fantastic new columnist for the Wonder of Wonders column. I don't know her — I don't even think I've replied any of her comments in my years and years of lurking — but I'll admit I had that dorky bit of glee and then went to check out the book.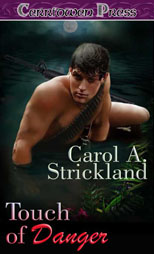 When ultra-superhero Londo (Valiant) Rand breaks through her door to save Lina O'Kelly from a burning hotel, she knows that's merely the beginning of her crisis. Londo's foes have temporarily blasted away his powers, leaving the two of them to outrun a mercenary army across an otherwise deserted South Pacific island. If they're lucky they can reach safety to await rescue, or Londo's powers will return and he can fly them away.

Londo doesn't want those powers to return, not yet. This is the first time in his life he's been able to touch someone without the potential of accidentally tearing them to shreds. Lina is definitely someone he wants to touch — and more. He's eager to learn what it feels like to be fully human.

But stubborn telepath/psychic Lina's dysfunctional childhood has left her with an acute phobia for touch. She's also sworn to help anyone who requests aid — even if it's the world's greatest superhero who asks for what she's unable to give.

Will they discover that what they've both longed for was not a touch of skin, but that of two hearts meeting? If they should fall deeply in love, how will they cope when Londo's powers return and he's too strong to hold Lina in his arms? (Excerpt and buy link.)
Superheroes. Romance. Two of my favorite things.
Anyway, while lurking this morning, I saw that she's over at the Cerridwen Press blog today, with the topic "So You Want to be a Psychic," and a psychic reading event on Friday. So off I go to lurk again…