Sybil was asking about YA books a couple of days ago, specifically those written by romance authors. I don't know anything more than those she already posted, but I came across this post (YA authors' favorite picks for 2006) a few days ago while Googling for something…I don't remember what. Anyway, the blogger's name caught my attention — Cynthia Leitich Smith — because she was part of the reason I moved from fanfiction to original stuff — we'd exchanged e-mails, she mentioned that my style might be a good fit for YA novels (I've still got a few ideas on the back burner, but not enough time yet to play with them), was incredibly supportive in making that move, and even sent me one of her books after my grandpa died and I was having trouble finishing up a story.
Anyway, it's sad how things like this can slip your mind for so long, but I'm glad I ran across her blog (and her website looks like a fantastic resource for YA in general, but also recommendations) because now I get a chance to pimp her books (RAIN IS NOT MY INDIAN NAME is the one she sent me, and I loved it. And Rain reads X-Files fanfic! so of course I'd adore that character) and TANTALIZE looks to be in the vein of BLOOD AND CHOCOLATE (it was blurbed by Annette Curtis Klause and Libba Bray).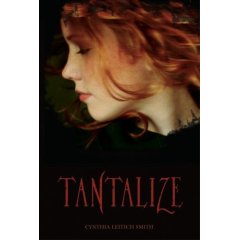 TANTALIZE (February 2007)
Are you predator or prey?
CLASSIFIED ADS: RESTAURANTS
SANGUINI'S: A VERY RARE RESTAURANT IS HIRING A CHEF DE CUISINE. DINNERS ONLY.
APPLY IN PERSON BETWEEN 2:00 AND 4:00 PM.
Quincie Morris has never felt more alone. Her parents are dead, and her hybrid-werewolf first love is threatening to embark on a rite of passage that will separate them forever. Then, as she and her uncle are about to unveil their hot vampire-themed restaurant, a brutal murder leaves them scrambling for a chef. Can Quincie transform their new hire into a culinary Dark Lord before opening night? Can he wow the crowd in his fake fangs, cheap cape, and red contact lenses — or is there more to this earnest face than meets the eye? As human and preternatural forces clash, a deadly love triangle forms, and the line between predator and prey begins to blur. Who's playing whom? And how long can Quincie play along before she loses everything? TANTALIZE marks Cynthia Leitich Smith's delicious debut as a preeminent author of dark fantasy.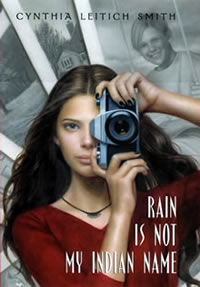 RAIN IS NOT MY INDIAN NAME
From Publishers Weekly
Multiple plot lines and nonlinear storytelling may make it difficult to enter Smith's (Jingle Dancer) complex novel, but the warmth and texture of the writing eventually serve as ample reward for readers. The sensitive yet witty narrator, 14-year-old Cassidy Rain Berghoff, grows up in a small Kansas town as one of the few people with some Native American heritage. That experience alone might challenge Rain, but Smith creates a welter of conflicts. Rain's mother is dead (she was struck by lightning), and as the novel opens, her best friend is killed in a car accident just after he and Rain realize their friendship has grown into romance. Six months later, her older brother urges her to go to her great-aunt's Indian Camp. At first she shrugs it off, but later volunteers to photograph the camp for the town paper and begins to share her Aunt Georgia's commitment to it. When public funding for the camp becomes a contested issue in the city council, Rain decides to enroll. Some of Smith's devices such as opening each chapter with a snippet from Rain's journal add depth and clarify Rain's relationships for readers, although other elements (the detailing of song lyrics playing in the background, for instance) seem stilted. Even so, readers will feel the affection of Rain's loose-knit family and admire the way that they, like the author with the audience, allow Rain to draw her own conclusions about who she is and what her heritage means to her. Ages 10-14.